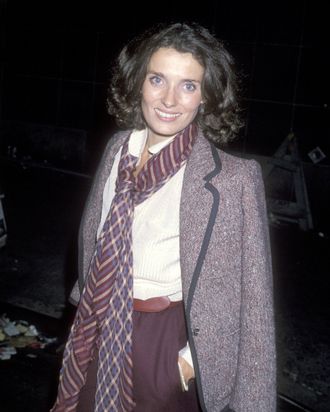 The real Margaret Trudeau.
Photo: Ron Galella/WireImage/Getty Images
On Sunday night's 60 Minutes episode about Canadian prime minister Justin Trudeau, the show mistakenly identified IRL mannequin and Sex and the City star Kim Cattrall as his mother, Margaret. 
The news program issued an apology to The Hollywood Reporter, but we need to take it a step further and celebrate the real, incredible Margaret Trudeau. A 2015 New York Times piece on Canada's former First Lady (and now the country's First Grandmother?) details her travels around the world, her marriage to Pierre Trudeau, and how she went from socialite to mental-health advocate. Her history, both glamorous and tragic, has been heavily scrutinized by the Canadian media. Here are the CliffsNotes on her incredible life:
• Before marrying Pierre Trudeau, she hopped from one hippie colony to another in Morocco.
• She married Pierre when she was 22. He was 51.
• She studied photography with Richard Avedon.
• Fidel Castro chose the name for her (late) son, Michel.
• She's now a mental-health activist.
• If she were one of the SATC girls, she'd probably be a Carrie anyway.