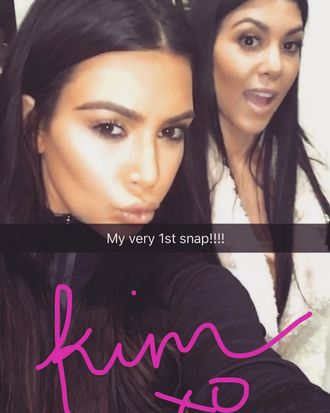 Kim K has arrived.
Photo: Kim Kardashian/Instagram
Further proving she's having none of this week's slut-shaming, Kim Kardashian joined another form of social media: She's ready to own your Snapchat. With sister Kourtney Kardashian looking on and presumably as excited as Kim's 62.9 million Instagram followers, Kim posted the snap hours after she penned an essay on her website calling for everyone (ahem: Bette Midler, Chloë Grace Moretz, all the haters) to get over her sex tape.
"It always seems to come back around to my sex tape," she wrote. "Yes, a sex tape that was made 13 years ago. 13 YEARS AGO. Literally that lonnng ago. And people still want to talk about it?!?!"
In a way, she's a little late to the Snapchat party: Kylie Jenner was last year's most-watched person on the app. But surely Kim will catch up soon.