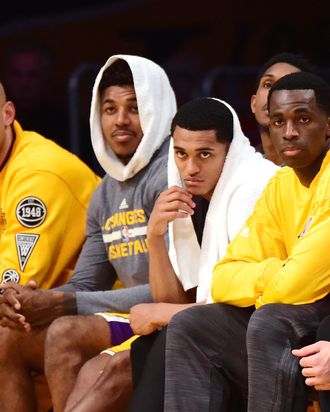 Nick Young and Jordan Clarkson.
Photo: Harry How/Getty Images
In what would be a stunning justification for her chosen career, an activist who works to reduce sexual-assault and domestic-violence rates among athletes says she was harassed on the street by two Los Angeles Lakers players, Nick Young and Jordan Clarkson. Alexis Jones told ESPN that she and her mom were in their car at a stoplight when a Jeep full of men pulled up:
According to Jones, the men inside the Jeep began making "vulgar, sexual" gestures toward her mother.

"She was super rattled. That's the truth. It scared her," Jones said. "We were in a small car, and they were in a big Jeep, and it was a bunch of big dudes. They're leaning out of the car and making vulgar, sexual gestures. My mom was really shocked. That immediately turned into sobbing."
Jones subsequently posted a (now-deleted) photo of the three men on Instagram, where commenters promptly identified two of them as Young and Clarkson. (Young denies he and his teammate harassed Jones.) Jones claims she did not know who the players were before the incident, though many who read the story remain skeptical of that.
The next morning, Jones received a phone call from Lakers publicist John Black, apologizing for the incident. "We take the allegation seriously and are continuing to look into it," he told ESPN in a statement. "Until we get all the facts from all the parties involved, it's not appropriate for us to comment."
The real irony here? "I created a program called 'ProtectHer' out of the urgency to address sexual abuse in athletics, and I was on phone calls with the NBA as of Friday talking with them about integrating this message and this program into the NBA," Jones said.