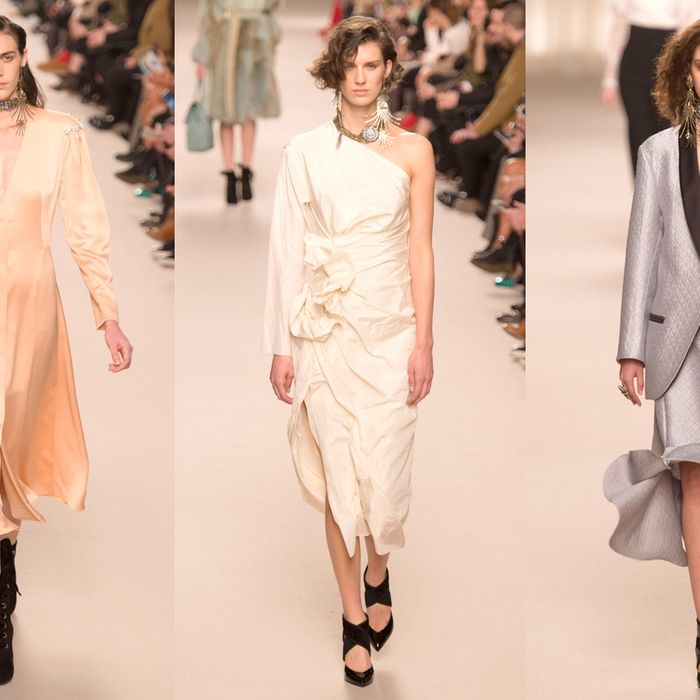 Last spring in Paris, the Palais Galliera held an exhibition of the fashions of Jeanne Lanvin. It was curated by Alber Elbaz, the artistic director of Lanvin since 2001, and Olivier Saillard, the Galliera's director. Although Lanvin, along with Coco Chanel and Madeleine Vionnet, was a primary architect of modern fashion in the 1910s and '20s, when women designers ruled couture, she was perhaps less famous than her rivals. But many people waiting in line to enter the museum knew Lanvin through Elbaz, and that was enough. He had made Lanvin one of the hottest labels of the new century — largely by ripping out linings and padding. He loved to take one of his bias-cut or draped dresses in washed silk and ball it up in his hands, as if to show who was boss — the woman and not the garment. But the exhibition also dramatized how deftly Elbaz had woven Jeanne Lanvin's sensibility into his clothes, in particular her bold use of decoration.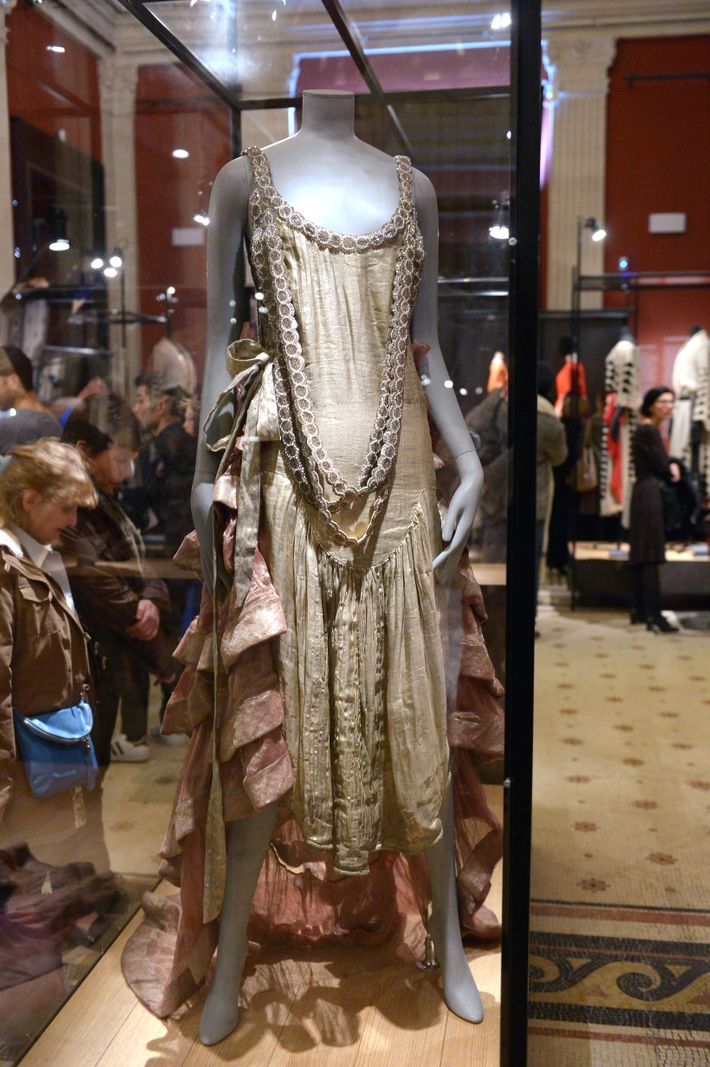 Then, in October, Elbaz was fired. The reasons for the rupture with the company's principal owner, Taiwan-based Shaw-Lan Wang, remain unclear. Last night, using its design staff, the house put on its fall show, and, on the whole, the clothes were fine. There were simple knee-length dresses in peach and aqua silk; a one-shoulder ivory dress gathered down a side; a pale-gray tuxedo jacket worn with a matching trumpet skirt; and Dynasty-era broad-shouldered blazers. The trouble was that the collection didn't look anything like Lanvin — not in the cut, the fit, or the types of fabrics. Elbaz had a special knack for making clothes look imperfect — say, by leaving the edges unfinished or adding an exaggerated sleeve to a dress while keeping the effect soft, so that you looked modern and ready to roll, and not like Alexis Carrington. And the new clothes didn't have that quality. If they looked any sort of way, it was average.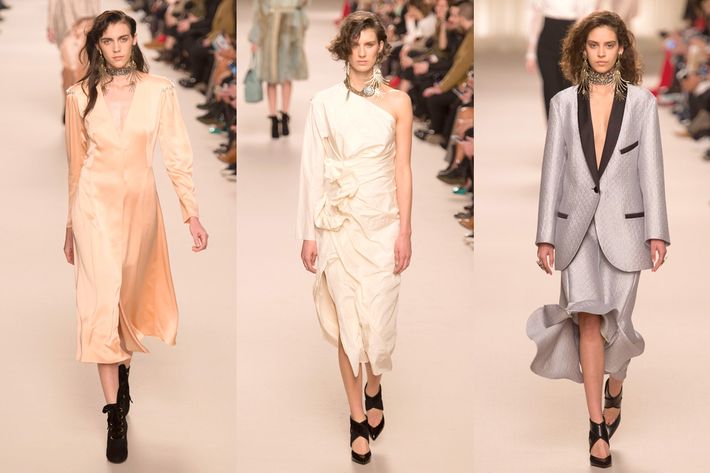 But the real loss was the connection that Elbaz had established with both Jeanne Lanvin's legacy and contemporary women. One of the hardest things in fashion is to make clothes that speak to people. Not only did Elbaz talk directly to women in face-to-face encounters in Lanvin shops and at events, but he also spoke through the medium of design. You felt he considered every choice, and knew how to balance forceful self-presentation with function and comfort — much as Jeanne Lanvin did in her time. It's now rare to sense the past in Paris's historical houses. You sense it at Chanel and Dior, at Louis Vuitton and Hermès, and to an extent Azzedine Alaïa, but nowhere else. Elbaz spent 14 years reestablishing the link to Lanvin, reaching across a century. Last night, I had the feeling it was wiped out in 15 minutes.
The relatively new label Vetements, which showed right after Lanvin, also speaks to contemporary men and women, though the results are completely different. Vetements is designed by a small team led by Demna Gvasalia, who is also the new creative director of Balenciaga. Although these designers come out of the luxury-goods business — most, if not all, worked at Martin Margiela, and Gvasalia also did a stint at Vuitton — their clothing expresses the attitude of people who don't care about luxury or identify with its celebrity-hawking methods and its usual come-ons. This seemed pretty clear when a model with a mullet strode out in a pair of wide-leg trousers and a white sweatshirt (beefed up with shoulder pads) that bore the message: "You Fuck'n Asshole."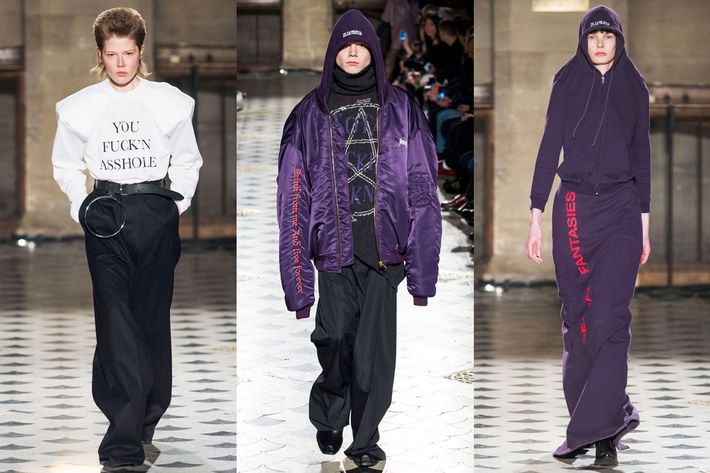 Held in a church on Avenue George V, this was Vetements' third show, and, in a way, its real baptism as a brand with fewer obvious associations to Margiela's style. To be sure, there are still tailoring gestures that evoke Margiela — jackets drawn up and pinched at the shoulders so that the upper body of the model almost resembles that of a scarecrow. Sometimes the effect was so extreme that the model's head appeared to sit directly on her shoulders. We've seen manipulations of silhouettes before, but the Vetements gang is doing them in a way that is both playful and varied. More than in their previous shows, there's a bigger range of shoulder styles, body shapes, and volumes.
Gvasalia gets a lot of his ideas from observing regular people in the streets — that is, not fashion people. This process will also be evident in his Balenciaga show, on Sunday. But watching the Vetements models, in their drably colored pantsuits and satiny bomber jackets with logos that suggested gun clubs, I had the feeling I was looking at distinct characters. They might be from Paris or from cities in Eastern Europe (Gvasalia is from Georgia), but, anyway, they are not people that high-fashion labels typically represent. For me, that's the most engrossing thing about this latest Vetements show: how the designers see the world around them.
And although this collection did some great twists on school uniforms and cotton dress shirts (with striped ties turned into floor-length streamers), the designers astonish with their ability to keep reimagining the common sweatshirt. Some hoodies have virtually no shoulders, so that the wearer looks a little like a zombie, while others keep the face in the shadows of the hood.
It's actually unnerving: Should I seek out the person or turn away?