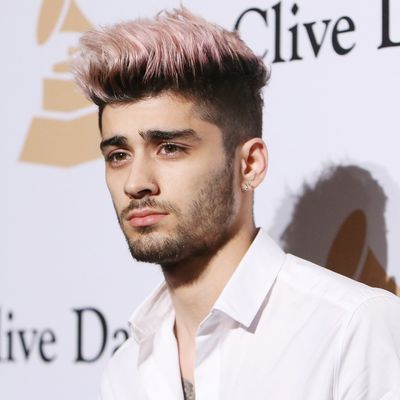 Zayn Malik in his bearded glory.
Photo: Michael Tran/Getty Images
Almost a year ago, it was announced that hottest One Direction member Zayn Malik was leaving the group. Many of us are still recovering from the trauma and confusion of this. "Why?" we whisper softly to our loved ones in the dead of the night. "Why did Zayn have to go?" we wail to strangers on the subway, hoping that someone can satiate our need for a logical explanation, to tell us that change is scary, to tell us it will all be okay.
Finally, we have an answer:
"There were certain restrictions in terms of the way that we could come outside of that young teen boy look. Mainly my beard, honestly. I wasn't allowed to keep it … That's one of the things that is now quite cool. I get to keep my beard. I also wanted to dye my hair when I was in the band, but I wasn't allowed to."
Restrictions like that led to Zayn's departure. He continued:
"It was about denying the authenticity of who I was, and what I enjoyed about music, and why I got into it. That was always there. It was one of the things that wasn't going to go away, so I had to go away."