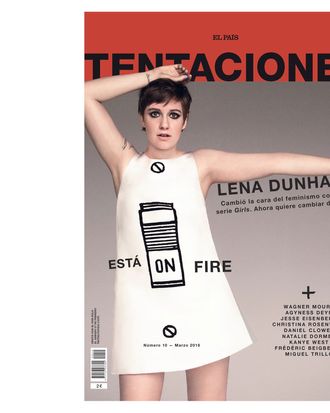 Who is the real Lena Dunham?
It's a tale as old as time (so like 2010): Ordinary woman becomes famous, poses for cool fashion picture, picture gets Photoshopped to adhere to unrealistic Eurocentric beauty standards, woman speaks out.
That's what happened to Lena Dunham after the Spanish magazine El Pais Tentaciones put a photo of her from 2013 on its cover. Dunham was dismayed when she saw the image, so she posted an Instagram of the cover with the caption,
Oh hello El Pais! I am genuinely honored to be on your cover and so happy you licensed a pic by @ruvenafanador, who always makes me feel gorgeous. BUT this is NOT what my body has ever looked like or will ever look like- the magazine has done more than the average photoshop. So if you're into what I do, why not be honest with your readers? Much love, Lena…
Unfortunately (or fortunately) for Lena, El Pais wrote a response asserting that the magazine acquired the photo through Corbis Images and did no retouching of its own. They simply cropped the image.
Like a rational adult human, Dunham posted a subsequent apology on Instagram:
She writes, "It's a weird feeling to see a photo and not know if it's your own body anymore." Lena's been Photoshopped many times before, so it makes sense that she could assume a picture of her from three ago was 'shopped.
The most important thing is that she apologized, which is something we should all be doing more of.