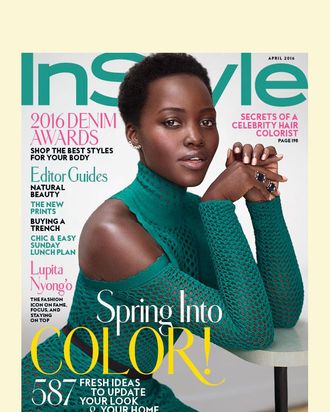 To paraphrase something Tyra Banks said on cycle six of America's Next Top Model, you can tell how beautiful a person really is when they're bald. (And then she slapped bald caps on all of the contestants, made them model, and judged the photos to prove her point.) That line really stuck with me — every time I wear a swim cap I'm like, Am I beautiful? Would Tyra think I'm beautiful?
Perhaps Lupita Nyong'o watched this cycle as well, because she too has worried about pulling off the bald look. She says in the April issue of InStyle:
"I wasn't sure if I could pull off [the bald look]. Because hair is the frame of the face, right? And we spend so much time on it, trying to get it perfect. It often defines one's beauty and feminine value. Almost on a whim, I was like, 'What if I didn't have it?' And so I shaved it all off — I was a complete baldy! It was shocking at first, especially for my mom. But I learned to embrace my features. And I like myself a lot more now that I'm not constantly fussing over my hair."
So inspiring, it makes me want to pick up some clippers and pull a Lupita Nyong'o. Or at least stop feeling self-conscious in a swim cap.