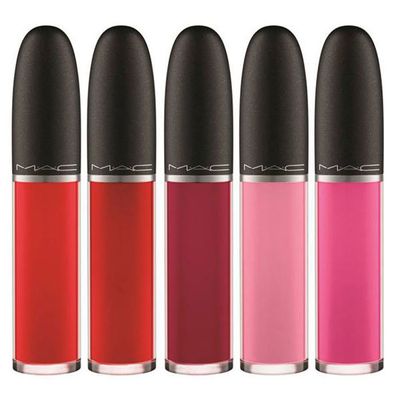 M.A.C. Retro-Matte Lipstick.
Photo: MAC
Snack on hibiscus doughnuts, drink matcha lattes, and be merry with this new matte liquid lip color from M.A.C Cosmetics. You may love your Ruby Woo and your Russian Red, but meet the two new great reds to add to the family: Fashion Legacy, a tomato red, and Feels So Grand, a classic face-brightening blue-red. And if red isn't your thing, the lipstick also comes in 13 other colors.
Part of M.A.C's new Retro-Matte collection, the lipsticks come in liquid form with just the right amount of glide — they won't slip-slide all over the lips, yet also don't look flat in color. The applicator is shaped like a teardrop so that you can use the pointy tip to trace the outline of your lips and then use the wider part to color inside the lines. It has a soft matte finish that doesn't look powdery or too retro, and it lasts through multiple courses of most types of snacking. We tested it on three glasses of water, a chopped salad, five gummy bears (balance), and butternut squash soup, and it withstood everything but the soup. 85 percent snack-proof? Not bad. 
M.A.C Cosmetics Retro-Matte Liquid Lipcolor, $20 at Macy's