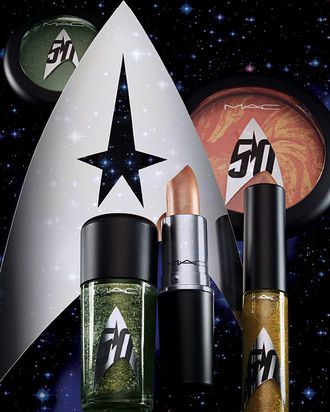 Vulcan salute to this M.A.C. Star Trek collaboration.
Photo: Courtesy of MAC
Going boldly where no makeup brand has gone before, M.A.C Cosmetics announced that they will be entering the final frontier: A special 25-piece collection celebrating each of Star Trek's powerful women (presumably Commander Deanna Troi, Uhura, Vina Orion Girl, and Seven of Nine). It will include lipstick, lip glass, pressed-pigment eye shadow, and nail polish. Set your phasers to stun when it comes out officially in September 2016, with a special presale on July 21 at M.A.C Gaslight. May it last long and prosper.