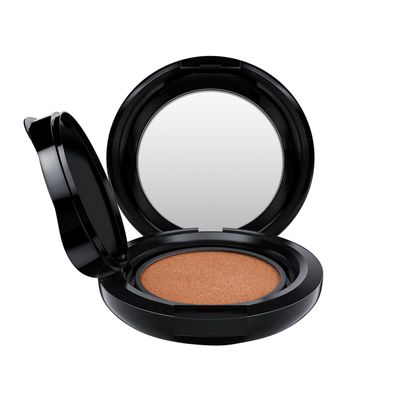 MAC's Matchmaster Shade Intelligence Compact
When the Western beauty market became awash in cushion compacts about a year ago, it seemed like no one could stop talking about them. Here's a thing! people said. It's like a BB cream but better! most wrote. It's different, kind of weird, but definitely cool! everyone concluded. I was, to be frank, unimpressed — that is, until MAC's entry changed my mind.
Introduced late last year, MAC's Matchmaster Shade Intelligence Compact is the brand's response to the Korean cushion-compact trend. All of the usual components are involved: a sponge saturated with a BB-cream-like liquid, a circular puff to dispense the formula all over your face, and an air-tight lid so the liquid doesn't dry out. For the uninitiated, here's how you use a cushion compact: You take the round puff included with the compact and dip it into the compact's formula-soaked sponge. A small bit of the formula seeps up from the sponge and onto the puff. After patting your face with the puff, you'll ideally see a complexion that's even, smooth, and moisturized.
MAC's formula appears virtually invisible on skin. It's thin — watery, almost — but covers spots and pimples extraordinarily well. You may need to tap the sponge over splotchy areas a few times to get just the right amount of coverage, but that's how "buildable coverage" works. Unlike Lancôme's cushion compact, which arrived last year, MAC's holds a smaller amount of liquid. (This is good, though; I always found myself overwhelmed with the amount of product that gushed from Lancôme's.)
Matchmaster is different from many cushion compacts in that it leaves a satin finish on skin — most cushion compacts lean more dewy. That doesn't mean your skin doesn't feel moisturized, though — quite the opposite, thanks to a dose of sodium hyaluronate, otherwise known as a super-hydrating compound. My oily skin loved it, but I have a hunch that dry skin will love it, too.
The bottom line is MAC's 12-shade-range Matchmaster is the kind of product that seems to cater to virtually everyone. Don't like looking like you're wearing makeup? Try this. Want the same even coverage that a foundation provides? Try this. Dry skin, normal skin, or oily skin? You know what to do.