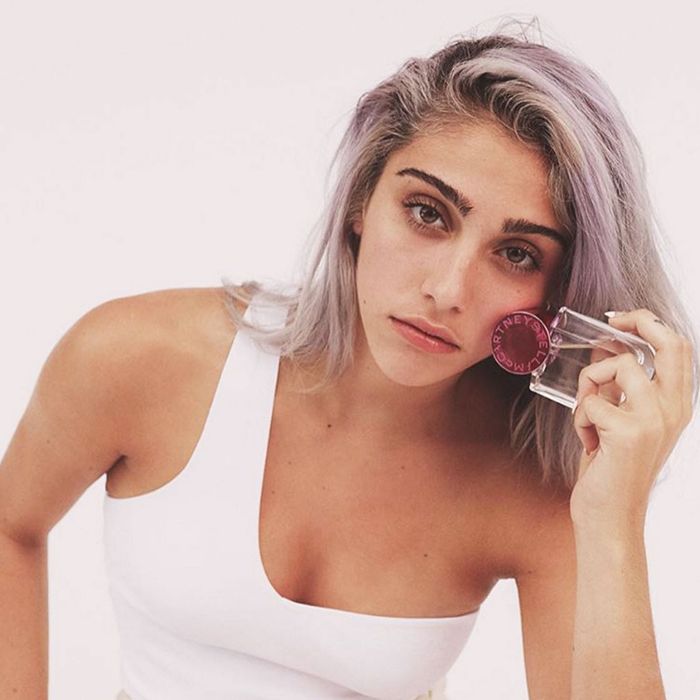 Lourdes Leon models Stella McCartney's new Pop perfume.
Photo: Stella McCartney/Instagram
In a testament to the power of mom friends, Stella McCartney named Madonna's daughter the face of her new eco-friendly perfume. Nineteen-year-old Lourdes Leon dyed her hair purple for her modeling debut in the designer's Pop perfume campaign, hanging with a pink-haired Grimes, Amandla Stenberg, and Kenya Kinski-Jones for a sunny photo shoot by Glen Luchford in California.
McCartney revealed Leon's participation in the campaign last week on Instagram like a true mom friend: "Lola, who I've known her entire life, is at the beginning of her career as a performing artist. She's an independent, inspirational and free-spirited young woman. Despite being born in the spotlight, she has kept her feet firmly on the ground!" Leon is studying musical theater at the University of Michigan.
McCartney's Pop campaign focuses on self-acceptance and positive support among women. "I go through this struggle myself," Leon told Vogue. "Women's bodies have been made so public that everyone feels like they need to comment. … I love when someone doesn't pretend to be someone they are not."