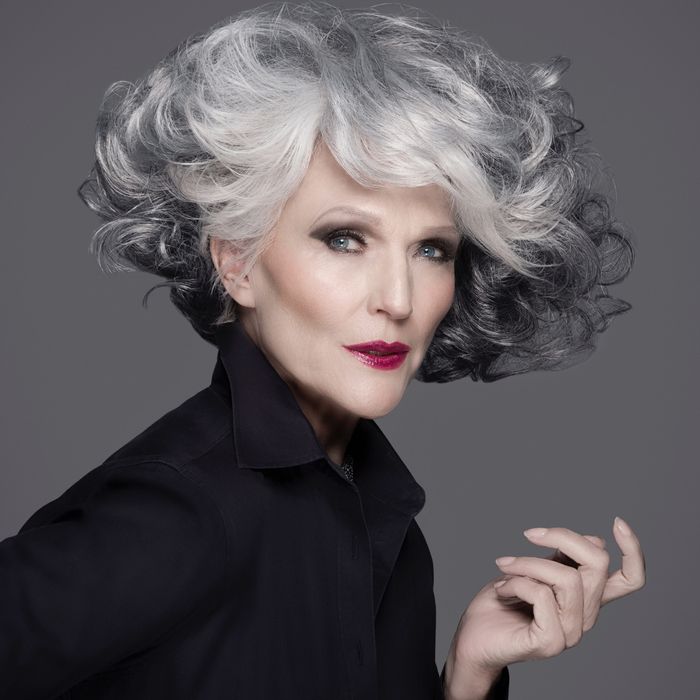 To most of the world, Maye Musk may be better known for raising what Vanity Fair called the "First Family of Tech." She has three kids: Tosca, a filmmaker; Kimbal, an entrepreneur and restaurateur; and well, Elon. But Maye has modeled for over five decades (including in the plus-size category); she's a licensed dietitian and nutritionist with two masters degrees in dietetic and nutritional science; and she starred in Beyoncé's music video for "Haunted." Her campaigns have included Revlon and Clinique, and she's posed for covers of multiple magazines (including New York!). Here, she talks to the Cut about what she's learned about wellness from her time in the industry, the importance of bean soup, and how she never allows herself to get hungry. 
How I start my mornings: I wake up with my dog on my stomach letting me know he wants to go out. If it's an early-morning shoot, I come back and have a cup of coffee, cereal, and half a banana. I mix up my own high-fiber cereal, so it's a mix of Fiber One, Raisin Bran, Grape-Nuts, dried cranberries, chopped nuts, pecan[s], or sunflower seeds, which I put in a container. I use one-percent milk. Almond milk is not a milk; it's not a beverage really.
How I sweat: I don't like working out. I've never been good at many sports, although my twin sister is actually great at them. I walk my dog four times a day, but I also go to the gym.
I'll do 30 minutes on a stationary bike so I can read at the same time. Or I'll do the treadmill if there's a good program. I'll do some weights and stretches watching TV because I find it boring, but I always feel better after. I feel proud of myself. My body feels better. You have to stay active, it keeps the bones flexible. But I don't believe in heavy pain, not to the point that I'm hurting. You don't need to hurt, especially over 60. To me, no pain.
How wellness has changed for me: My website shows five decades of modeling, and that includes the '80s when I was a plus-size model. When I was 15, my mom's best friend had a modeling school and she gave me a free modeling course and I started being booked for jobs. When I was 20, my friend entered me for a beauty competition and I became a finalist for Miss South Africa. I was doing my B.S. in Dietetics. After this, I got married and had three kids in three years. There were no pregnant models at that time.
Then I got divorced and moved to a new town. I had years of being a careful eater and then I started eating everything and gaining weight. I gained 40 pounds, which is not that hard when you loved eating fried food. I did enjoy eating whatever I felt like. And then I became plus-size at 32 and became a popular model for that.
As a plus-size dietitian, I understood how hard it is to lose weight. You have to be vigilant. It was a lot harder to be a plus-size model and dietitian. So to lose the weight, I ate perfectly for a year and dropped 40 pounds to get back to being a size six.
What wellness means to me: Science and common sense. I don't do crazy stuff. I don't do a lot of fad diets or supplements, and don't recommend that. I don't recommend being gluten-free unless you have sensitivity.
I always have snack-y foods with me, like nuts and individually wrapped prunes. I don't like getting hungry. When you're hungry, you'll look for foods and it's never salad; it's always muffins! So I don't allow myself to get hungry. That will satisfy you until you can get good foods. On most photo shoots, there is a good variety of whole grains, scrambled eggs, and granola. You have a lot of good options to make a healthy choice. If you eat too many things that are high in sugar and fat, you'll want to fall asleep.
My biggest wellness struggle is: Temptation. When I go visit my grandkids, and I eat a healthy dinner, they'll eat their ice cream or cookies or whatever. I don't touch them. I can't. You have to know your trigger foods, and for me it's sweet foods. When it comes to wellness, I have to eat well most of the time. When I overeat, it takes me about two weeks to get the weight off.  I've learned over time that if I don't turn it around right away, that weight stays on me. It's just not that quick anymore in your late 60s. I'll be 68 in April and I have to be more careful now.
Let's say I come to NYC for photo shoots. I'll have a nutritious breakfast, lunch, and a snack at around 4–5. By the time to get back to the hotel, I don't need to eat anything because I've eaten well in the day. For dinner, I might eat leftovers from lunch. I don't have to think about it. You keep your weight down that way. It's always planning everyday. It's worth it. It sounds like it's hard work, but you feel good.
I want to stay a size six for health reasons and because that's what I model at. One year, when I walked in New York Fashion Week, there was only one dress that could fit me. It was a size four and I thought my ribs would burst. For editorial, sizes are generally fours and twos. I can sometimes do a two with an open back for print work. A size four I can try to squeeze into.
My wellness shortcut is: I take 12-bean soup mixes, soak the beans overnight, boil them up, add tomatoes and flavoring and freeze it. I'll have a cup a day. It's very nutritious. A report came out that people who lived the longest had a cup of beans a day.
The other night when I went out to eat, there was lamb shank, which is my favorite food in the world. It's a rich meat. I ate all the vegetables. I packed that and most of the potatoes and ate it for three more meals with a lot of veggies. You don't gain weight that way. I've learned to experience it.
How I eat when I'm alone: Very healthily and simply. It's more like snacking throughout the day. I'll do egg on toast, lots of fruit and vegetables, and beans. If I buy salmon, I'll have it for three days.
My wellness advice: I encourage women over 65 to be positive and enjoy their life. Being a dietitian keeps up my knowledge base. You can't fool me. If there is a food or supplement claim, I want to see it. I won't be the face of a supplement that doesn't do what it says it does.
When I'm on a modeling job, I don't try to let people know I'm a dietitian. They'll say, I juice every morning. Yeah, I don't juice. Or they're taking a supplement that's working for them. I don't want to be the Debbie Downer for the miracle things they are doing. I try not to give advice unless people ask me.
This interview has been condensed and edited.