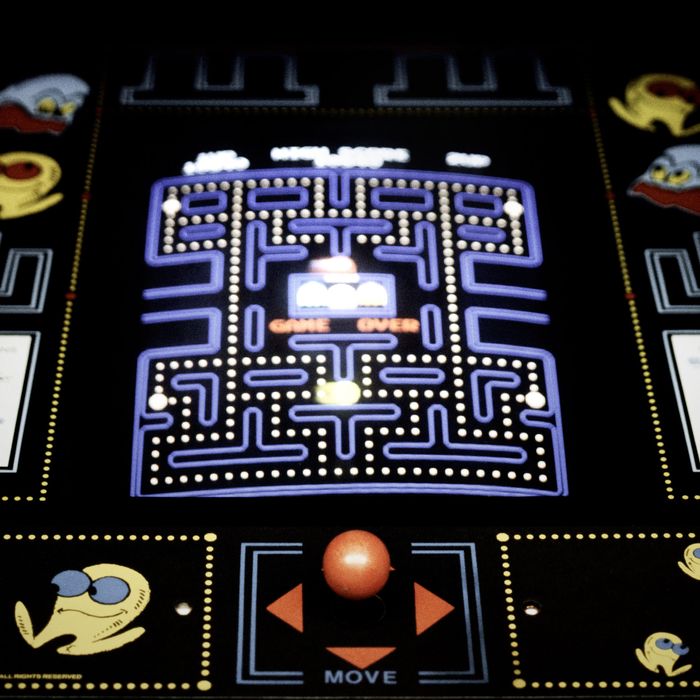 New York's Sex Diaries series asks anonymous city dwellers to record a week in their sex lives — with comic, tragic, often sexy, and always revealing results. This week, a woman flies to Colorado for a surprising fling. Single, female, heterosexual, early 30s.
DAY ONE
8 a.m. "I think I'm poisoning myself," I tell a co-worker in the cube next to me as I drown artificial sweetener in the stale office coffee. She points to her headphones, unwilling to engage. I work in banking, but I'm also getting my MBA.
9 a.m. An ex-boyfriend texts to ask if I want to meet for dinner. I ignore it — in part because of an early flight tomorrow, in part because he bores me and his cum tastes like saltines dunked in ocean water. I contemplate making crab cakes for dinner.
12:08 p.m. The ex texts again saying he'd leave his fiancée if I slept with him. This time, he promises. When I was 20, he asked someone else to marry him after he and I'd been dating for a few months. I'm not 20 anymore. I tell him about my flight and general disinterest. I'd much prefer he kept his fiancée. His next text is a series of flower emoji.
5:45 p.m. I already know that I'm late for class. I contemplate skipping it to pack.
7 p.m. I'm late for class and standing in the hallway. Who needs a graduate degree anyway?
10:38 p.m. Home and drowning in a sea of homework, I start nodding off in front of the computer. My phone vibrates. I swear, if this is the ex again, I'm going to throw my phone. "Looking forward to seeing you tomorrow," I read. I clutch my phone like I'm hugging a person. In a few short hours, I'll be on a flight to see "Denver," a 29-year-old grad student. We met at a 5K a few months back in the city, and although he moved across the country shortly after the run, I remained enamored. Tomorrow will be the second time that I'm seeing him.
Midnight I CAN HEAR MY MOTHER'S VOICE IN MY HEAD: "There are plenty of guys in New York." Sure, Mom. Sure.
DAY TWO
5:08 a.m. It's early. Too early. I stare at the clock wondering if I should sleep and miss my flight. Denver would understand if I didn't show, wouldn't he? Just a few weeks prior, I was anxiously counting down the days. Today, I'm upset that I'll have to pay for parking at the airport.
5:32 a.m. I'm staring at myself in the mirror, toothpaste running down my face. My face is puffy and my hair is mussed, but I get my contacts in without issue. There are miracles before caffeine; you just have to know where to look.
7:02 a.m. There is no line at security. Maybe this was a good idea after all. Why won't my nerves settle?
11:47 a.m. A little kid on the plane is crying. Apparently, the only way to stop him from doing so is to let him sing. The stewardess lets him get on the microphone and sing Christmas carols. It is nowhere near the holidays. His tiny voice pierces my otherwise-okay airplane nap.
1 p.m. I land to a text from Denver. He is so sorry but he won't be able to pick me up from the airport after all. He forgot to take off work. Funny, so last night's text meant what, then? I find a cab and wait on what I think is his stoop until he comes home. Occasionally, I do cartwheels in front of his house. No one seems to notice. I contemplate going for a walk but getting lost is the last thing I want to do right now. I curl up on the stairs and read.
3:56 p.m. I look up to see a familiar grin and crop of curly hair. I don't remember him being so short or so slender. He helps me up and wraps me in a hug. "I'm so glad you're here." He beams and tries to kiss my mouth. I smile and we bump teeth. We've never actually kissed before. He carries my bags upstairs and mixes me something with bourbon.
7 p.m. We've done nothing but watch television since I got here. I'm not sure what to make of it. I kiss his cheek. He tells me that he hopes I'm an organ donor because I have gorgeous eyes and someday someone without them could use beautiful eyes.
9 p.m. More television. I haven't eaten at all today. He hands me a bowl. I can't tell you the last time I had marijuana. We relax into one another and make out haphazardly. He bites my face accidentally. We get our clothing off and I'm grinding on top of him. He's more well-endowed than I anticipated. We both come easily.
DAY THREE
7 a.m. We're still on the couch. I ease away to shower. He wakes up, takes notice, and comes to join me. Who doesn't love a good-morning blow job under the water? As I drown, he pulls back. He tells me he's never had a blow job before and is nervous to finish. I instruct him to relax against me without falling in the shower. He tastes unremarkable.
10:03 a.m. He's a short walk from a pretentious-looking coffee shop. We sit on distressed brown leather chairs wasting the morning playing Connect Four. We don't say much.
4 p.m. We drive to a dessert crêperie.
9:36 p.m. We meander to a bar that boasts arcade games. I lose him to the bottle. He loses me to Pac-Man. I sleep on his couch. He sleeps on the bathroom floor.
DAY FOUR
4:04 a.m. I wake up to a crop of coarse curls brushing my cheeks. He tells me that he meant to wake me. His breath is tinged with stale beer. He gets me to my feet and we fuck, my face and breasts pressed against a living-room window. His apartment overlooks downtown.
5 a.m. He invites me into his bedroom. We curl up under blankets clinging to one another like we belong together. For the first time since the trip began, I'm calm.
9:42 a.m. I'm woefully uncoordinated but when he suggests a day of cross-country skiing, I play along. I've never done it, but he'd never gotten a blow job before this weekend, so we can both have a first.
10:03 a.m. We get fitted for skis and set off to a trail he's sure will be great. It is only a few miles round-trip. We park by an abandoned, freestanding chimney. I ask him if we're in a horror film. He laughs low. I remember his comment about my eyes. I'm fine. I think.
10:32 a.m. I still can't get my skis on. He tries to help but I keep losing my balance. We get there and I shuffle uneasily along the trail. He asks if he can go ahead. He'll come back for me, he just really loves this and can't get his heart rate high enough for it to count as exercise at my speed. I'll be fine. I'm not fine. I take off the skis and shuffle slowly on the snowy trail back to his truck.
1 p.m. He had a great workout. I want tacos. He won't have sex in his truck. He's never had sex in a car before either. I still want tacos.
3:16 p.m. I'm showered and all dolled up with nowhere to go. We order pizza and watch television. We smoke a little weed. He goes to kiss me but stops himself. I don't bother to ask him what's wrong. He just keeps eating pizza and taking bong hits. We have a small conversation about his expectations for the weekend. He shrugs and says that I'm insatiable and it is off-putting. I haven't heard that one before.
5:52 p.m. I excuse myself to go to sleep. I'm not tired, but I can't watch another made-for-TV movie. As far as I know, he doesn't come into his bedroom that night.
DAY FIVE
10:02 a.m. He knocks on his own bedroom door fully dressed and asks what time my flight is. I tell him the airport shuttle comes in about an hour. He nods and leaves me to packing.
11:08 a.m. He tells me that he had a great weekend but doesn't know when he can see me again. He'd like to keep the lines of communication open. I nod. I'm not hopeful. He kisses me good-bye in the same way a small child kisses a grandparent — tight-lipped, closed-mouth, and as quickly and stiffly as possible.
1:50 p.m. It feels good to be on an airplane. It really does. I take a handful of Benadryl that I purchased at the airport. Here's to a nice, quiet flight.
8 p.m. The two-hour time-zone difference upsets me. I grudgingly pay my parking fee and head home.
11:06 p.m. The ex texts me and asks if I still believe in fairy tales after my weekend away. I ignore it and instead text Denver: I had a great time. Thank you.
DAY SIX
8 a.m. Co-worker with the headphones asks how my weekend was. I regale her with stories of cool bars and cross-country skiing. She nods.
8:46 a.m. I text the ex back and tell him that my weekend was great and yes, I still believe in fairy tales. He texts back that his fiancée is a pain and could I please help alleviate some of his built-up sexual tension. He doesn't talk of leaving her, just about how badly he needs to feel my "pretty little mouth."
9:38 a.m. Denver finally texts me back and thanks me for being impulsive and amazing. He can't believe that I actually flew to him, that I actually had sex with him. He texts quickly that he's glad he could lose his virginity finally. I'm suddenly flooded with emotions that can't be contained by a cubicle. I ask if he's serious. He is and he is thankful. I run to the bathroom. I'm not upset that he was a virgin. I'm relieved that his actions make more sense in light of this news. He stops texting back.
10:15 a.m. I repeatedly check my phone. I suddenly feel very invested in Denver's life and well-being. I muse that we could make this work. I could fly out every other month and he could fly to New York periodically. We can build a long-distance relationship from scratch. I'm hopeful for the fledgling romance that lives in my imagination.
1:12 p.m. I go for a jog on my lunch break: 36:12 minutes, 3.1 miles. Just a few seconds better than my best 5K time. My phone is silent and I forgot to bring deodorant to work. It is going to be a long afternoon.
9:42 p.m. Bedtime is my favorite part of today.
DAY SEVEN
6:04 a.m. I'm up before my alarm and decide to take a mental-health day. Still no response from Denver. I try a good-morning text and go back to sleep.
2:22 p.m. The ex asks how I'm feeling. It is like he has a radar for my moods. I pour my heart out.