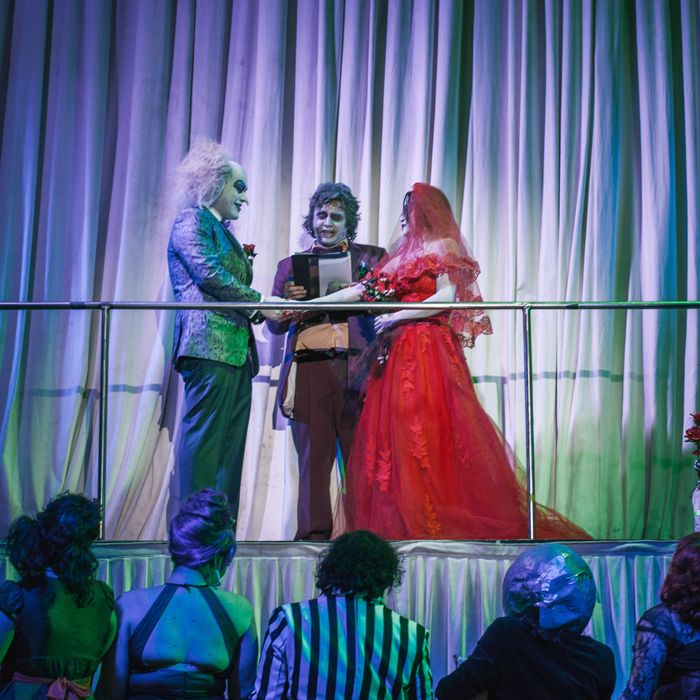 Luis Latorre had been with his girlfriend, Ryoko Sasaki, about a year before he popped the question, but nothing about a traditional wedding felt quite right. "As the years went by, we were looking for something different, that's more like us," he told me just hours before taking his vows with Ryoko from a man dressed like Beetlejuice.
This wasn't just any old Pinterest-inspired Tim Burton wedding, though. This was a Beetlejuice Wedding immersive event, with a screening of the cult Winona Ryder film, live performers, aerial dancers, fantastic costumes, and Beetlejuice-inspired décor, like a netherworld waiting room perfect for strange and unusual selfies. Luis had learned about the event from an email blast by BBQ Films, the producer, just a few weeks before. What caught his eye was the opportunity to be joined in eternal, legally binding wedding bliss by the Ghost with the Most himself.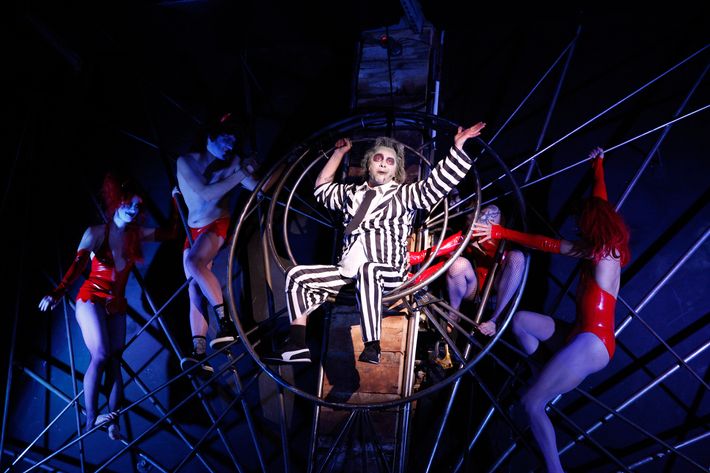 "Believe it or not, what made us pull the trigger was this event," Luis said. "Very last minute but we figured, hey, it was our style, and two and a half weeks was enough time to get everything together." Before their nuptials on Sunday night, the couple had already been together 10 years; their adorable 2-year-old daughter was at the event, but the wedding itself was past her bedtime. (She's already seen a few clips from Beetlejuice and The Nightmare Before Christmas, and she loves Jack Skellington.)
Luis was introduced to Tim Burton at a young age. "You would think as a kid you'd be very scared of the afterlife. I actually found myself wanting to go there from time to time! Knock on the door, visit a few funky people." We were standing near a woman dressed as Juno, the movie's undead caseworker, pacing back and forth with a cigarette in her hand and a gruesomely slit throat. "I fell in love with the whole world," he said.
The wedding was quite literally a showstopper; the film paused at the second where Beetlejuice offers his arm to Lydia so they can get hitched, much to our teen heroine's horror. (Like most '80s and '90s comedies, it's best not to think too deeply about the sexual politics behind the humor.) That's when the night's real Beetlejuice, played by Alex Dunbar, returned to the stage. Three couples joined him onstage to renew their vows, and then it was time for Luis and Ryoko to shine.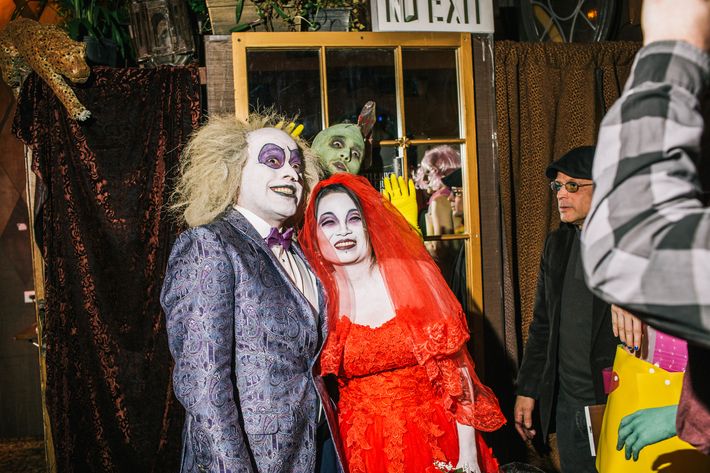 Since Beetlejuice was officiating the ceremony in his mauve wedding suit, Luis opted to dress like the cartoon version of the character, with a paisley-patterned jacket and Joker-like makeup. Ryoko stuck to the traditional Lydia Deetz wedding look, a wild red taffeta confection that suited her perfectly. Friends and family had made the trek out from Pennsylvania to share in the festivities, including Luis's mom and dad, Yolanda and George; they were seated in pews below. One friend of the couple sported an ax in his head like one of the characters in The Nightmare Before Christmas.
But that's where the similarities between their wedding and the movie's ended. The happy couple exchanged vows, laughed, and kissed while the crowd cheered. The movie resumed, all of us waiting for the unforgettable finale: Lydia dancing to Harry Belafonte's "Jump in the Line" as her undead adoptive parents, the Maitlands, look on proudly. After the credits rolled, a live band took over.
As I left, I stopped to shake hands with the giddy Luis, who was nearly unrecognizable with his prosthetic nose and wild-haired wig. Around us, revelers in their Gothic best were drinking and chatting while Beetlejuice characters like Char Man and Miss Argentina nonchalantly mingled.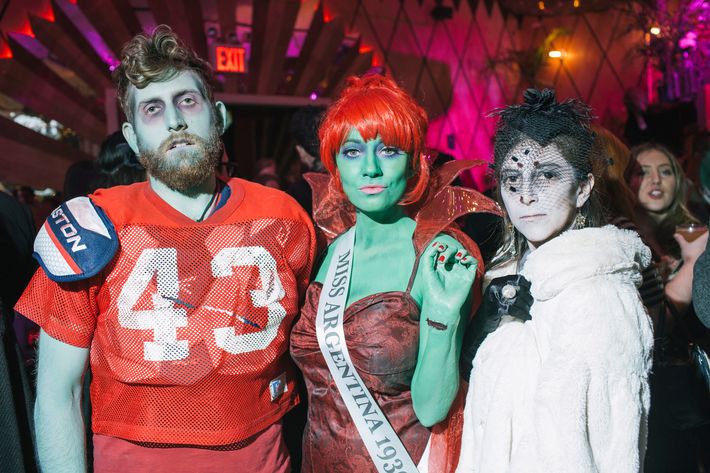 "Everything is of the universe of the movie," BBQ Films co-founder Gabriel Rhoades had told me earlier, "but it also is this independent, individual, wholly owned creativity of the people that are participating. And being able to bring Luis and Ryoko into that moment – they celebrate their love for each other, their love for this moment, their love for Tim Burton. A lot of this comes from a celebration of the stories that make us who we are."
The shared memory of a movie like Beetlejuice, imprinted in our teenage selves, is a universal mark of weirdness, a secret handshake for anyone who scribbled "My life is one dark big room" on the cover of their notebook in math class. I don't like crowds, but by the end, I felt friendly toward everyone — even when I noticed a guy with distinctively bad star tattoos on his neck and realized I'd matched with him on Bumble. (Hey, turns out we had something in common after all.)

Even though it was the first day of spring, it was snowing outside. Somehow, that seemed entirely appropriate.