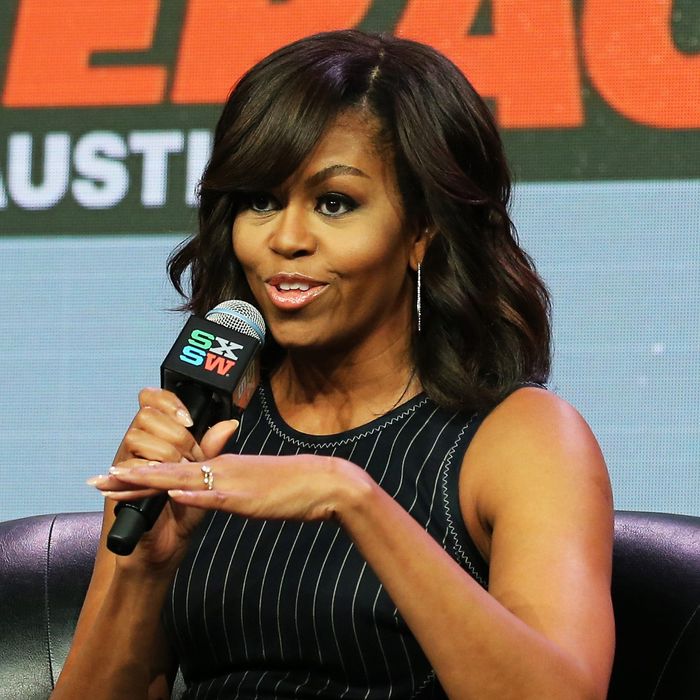 Beautiful singer Michelle Obama.
Photo: Neilson Barnard/Getty Images
We already know that Michelle Obama has better things to do than run for president, but we sense she might have a future as a diplomat, killing it at karaoke with Korean leaders. 
During a lively discussion of music and girls' education with the likes of Queen Latifah, Missy Elliott, and Diane Warren at the SXSW Music Conference's opening keynote, the First Lady not only demonstrated a deep love for Stevie Wonder (fave albums: Talking Book and In the Key of Life), she also burst into song. When Latifah asked her about her time in the White House, FLOTUS stopped her mid-sentence.
"Time's almost up," she said, and then BROKE IT DOWN with a spontaneous rendition of the Boyz II Men classic, "It's So Hard to So Hard to Say Goodbye to Yesterday." It was but a momentary taste of supreme talents she's already demonstrated, but it was amazing. Fingers crossed that she's saving "End of the Road" for a Virginia McLaurin–worthy musical hurrah on the White House steps with actual Boyz II Men, Barack, Sasha, and Malia. Lin Manuel-Miranda, of course, will be on hand to freestyle about the historical significance of the moment, as it's happening.