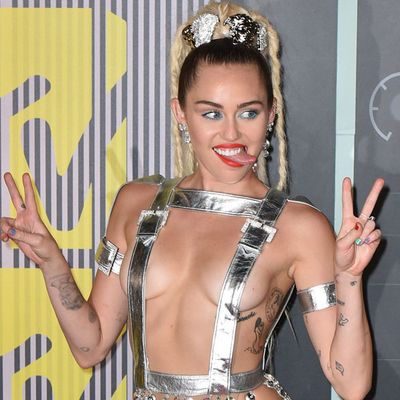 Miley once again misses the mark.
Photo: C. Flanigan/Getty Images, Miley Cyrus/Instagram
March 8, 2016 marks International Women's Day and also the day Kim Kardashian took her celebrity haters down on Twitter. Singer, actress, and rainbow enthusiast Miley Cyrus was kind enough to write a short think piece inspired by today's events on her Instagram account: >
Cyrus's call to end the internet drama on such an important day might seem noble, but she seems to be suggesting that both Kim and her haters should "put the cuntiness aside for one fucking day." First off, Kim's response to people attacking her because of a nude selfie is not "cunty." It's a bold, funny power move. International Women's Day is actually an ideal time for Kim to call out her haters' misogynistic comments.
And yes, while "overly fortunate" women like Cyrus should absolutely "come together and try to create and bring jobs to other women in desperate need," that's not mutually exclusive with calling out people who attack you when you display bold bodily autonomy on social media.
Do better, Miley.