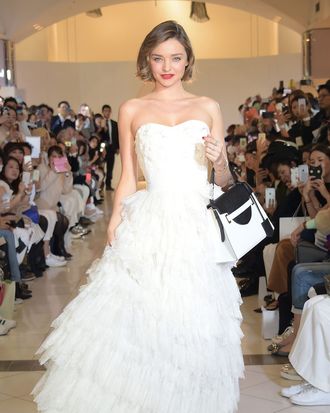 With a decidedly bridal Samantha Thavasa handbag.
Photo: Jun Sato/Getty Images
Hot bridal trend: Walk down the aisle with a purse like Miranda Kerr's at Japan Fashion Week. It's a superbly pragmatic accessory: Forgot your vows? Need a tissue? How about some pepper spray for your crazy and/or drunken and/or high-maintenance in-laws — just in case they get out of hand?
Kerr continued her partnership with Japanese brand Samantha Thavasa at the designer's show, walking the catwalk in a number of white dresses with matching handbags. Probably worth saving on the Pinterest board.