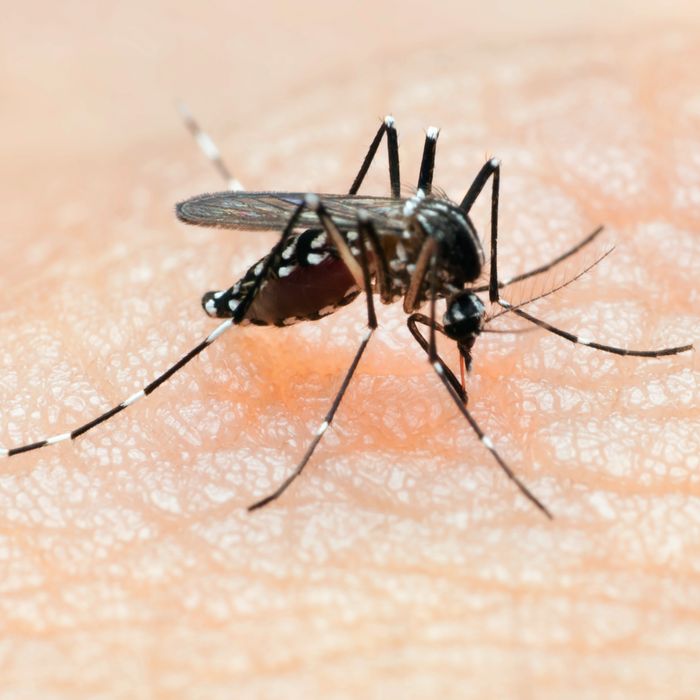 Photo: Flu by Dust/Getty Images
It was a trip you wouldn't think twice about.
Is it safe to travel to Puerto Rico? Of course! You don't even need a passport. Or so I thought. Over the holidays, my husband and I took three days off work, parenting, and the hustle of everyday life to become total sloths at a resort on the island's northeast coast. At 11 weeks pregnant, and with a busy toddler at home, I appreciated the downtime. We soaked up the three days as one can only do at a Caribbean resort. We played tennis in the mornings. Snacked on ceviche at lunch. We had massages in the afternoons. It was exactly what we needed.
I was excited to get home, though. Because I'd soon be 12 weeks pregnant, that magical time when I could come out of the proverbial "closet" and share in our joy with friends and family. Having gotten pregnant a mere month after turning 35, I was well aware of my "advanced" maternal age. It was practically shoved down my throat at my first prenatal appointment. But so far, everything looked good. My maternity 21 test came back low-risk. My nuchal translucency was perfect. "Start saving for college," the doctor joked after reviewing my scan. We even learned we'd be having a daughter to complement our beautiful son. Heading into my second trimester, the outlook was sunny. So I settled into pregnant life as I knew it. I took a small sip of Champagne on New Year's Eve and exhaled for the first time since taking an EPT test three months earlier.
Then, not two weeks later, I read about the Zika virus. Naturally, hormones raging (specifically from all those X chromosomes), my first reaction was one of panic. My husband thought I was nuts, but nothing I read could minimize my concern. In every news story, it was the same frightening statistic of "only one in five people have symptoms," or "women in their first trimester are most at risk," accompanied by the same harrowing photo of a microcephalic baby. My family kept telling me I was fine, but we had been in Puerto Rico at the time of the outbreak. I could have been infected.
For the next week, my mind was racing. I thought back. Did I have a rash when I got home? I was itching a bit on my leg. I would have noticed a rash though, right? My Google history looked like something out of a Dermatology 101 final. I searched "Maculopapular Rash," "Maculopapular Rash Pregnancy," "Zika Rash," "Zika Puerto Rico." I became a Zika expert. I caught every update, every CDC flow chart first. Searching for news on Zika became addictive. It was — no pun intended — an itch I had to scratch. I checked to see if the numbers in Puerto Rico shot up (they did). I checked to see if the cause of microcephaly wasn't Zika-related (still in question, likely is). I checked to see if there was anyone like me, pregnant, who had visited these areas before word of Zika spread. All I could find were blog posts about pregnant women canceling their babymoons. Great.
I called my obstetrician. She said the official recommendation for pregnant women in my position was to have monthly ultrasounds, which didn't feel right since microcephaly isn't detected until late in pregnancy. So I visited a genetic counselor to determine if an amniocentesis could check for Zika in the sac's fluid. Then I found out I could get a blood test through the CDC, but results would take a month or more. A month? I'd be close to 20 weeks at that point. I'd be showing! And then what?
"And then what?" became the central question in my struggle. What if my results were positive? And then what? Then I get the amnio and wait longer? And then I'm close to 26 weeks before I even know if Zika got to the baby? And then what? And then I'm supposed to weigh my "options"? No one seemed to have answers. "We're experiencing this in real time, just as you are," the specialists said. I suddenly felt half-pregnant. I was sort of pregnant. My smooth-sailing pregnancy became a pregnancy on eggshells. "How are you feeling?" friends would ask. Did they really want to know?
My only option was to wait it out.
And wait I did. And wait. And wait. And wait. As I waited, I read more. I learned where Aedes aegypti mosquitoes thrive. They tend to flock to populated communities in hot, humid climates, particularly where stale, stagnant water is left sitting out. They often bite indoors, in homes that lack screens or windows that shut. I felt guilty for stressing when I knew that I was probably fine, especially having stayed at a resort for only three days. I felt terribly for pregnant women living in these regions, who, whether as a result of religion, social stigma, or medical access, have very limited options, even in the most severe cases. But I couldn't help it. I was panicking.
Not to mention, Zika somehow made its way into every conversation with friends and family. I had one girlfriend who wasn't pregnant text me hysterically about whether she may have contacted Zika in the Caribbean two months earlier. I tried explaining to her that if she had, it was over. And she wasn't pregnant anyway, so try not to worry. Another friend would text me on random Saturday mornings when I was trying my hardest not to think about it. "DUDE! Do you have Zika or what?" Another friend asked me if my baby's head looked "proportionate" to her body after I had just come from an ultrasound.
After a month of waiting, I had no choice but to move on. I proudly displayed my bump. I talked about my pregnancy. I knew the chances were good I wasn't infected, and I doubled down on that hope and started to enjoy it. But then, out of nowhere, the grief and anxiety would resurface, and I'd feel it wash over me again. It was always there, like a pesky credit-card bill I hadn't opened, staring at me every night when I came home.
And then, with one simple voice-mail, it left. After five weeks, I went from not knowing to knowing. My results came back negative. Within an instant, my pregnancy felt real again. It was as though I was back at 12 weeks, only I was 21. I treated myself to some maternity clothes at a sample sale. I was going to start owning whatever was left of this pregnancy
And now, as my husband and I plan the last trip with our son as a family of three, we're thinking of heading to Southern Spain, or Canada, or anywhere Zika isn't. My mom is urging us to stay domestic. "What if you hear there's an infectious disease in Spain when you get back?" she asked. True. But if there's one thing this ordeal has taught me, it's that we have to live our lives and hope for the best. There are many women still anxiously awaiting their test results. There are many women whose tests are coming back positive. I dodged a bullet this time, but who's to say what lies ahead?
My dance with Zika reminded me just how fragile pregnancy is. That even in the boutique culture of New York, where we're busy agonizing over what prenatal yoga class to take, or which world-class hospital to deliver in, bringing another life into this world is serious business. And it didn't have to be Zika — despite all the medical care I've been accustomed to in my Western upbringing, I will encounter problems outside my control. When it comes to motherhood, fear comes with the territory. Even in the safest of places.