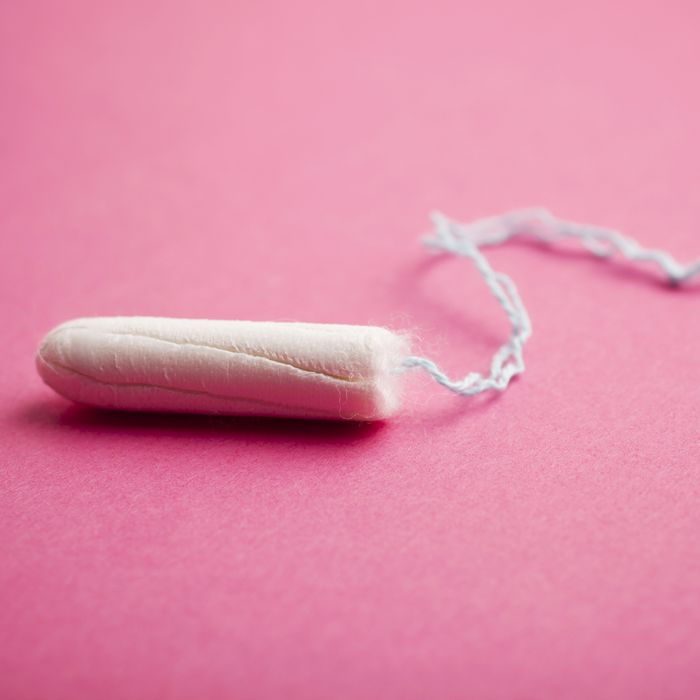 Feminine hygiene products should be purchased like toilet paper, proponents say.
Photo: Gustaf Brundin/Getty Images
If a City Council bill introduced on Tuesday passes, New York will be well on its way to becoming a menstrual utopia. The bill, proposed by finance chair and Councilmember Julissa Ferreras-Copeland, would require free tampons and pads in public-school bathrooms and in homeless shelters, and improve access to these products in jails and prisons.
Currently, students who don't have supplies either because they got their period unexpectedly or simply can't afford them have to go to the nurse's office, despite the fact that they're not sick. Public schools in the city don't even have for-pay dispensers, according to Lillian Zepeda, a spokesperson for Ferreras-Copeland. (And public assistance programs don't cover these items, which is something Ferreras-Copeland also hopes to change.)
New York correctional facilities dole out 144 pads a week for every 50 women, or about 12 per women per month, but that's not enough for some. Toilet paper is also rationed so makeshift pads aren't an option. Another bill sponsored by City Council Speaker Melissa Mark-Viverito would see that the Department of Corrections provides pads or tampons immediately upon request.
As for homeless shelters, earlier this month, U.S. representative Grace Meng successfully lobbied the Federal Emergency Management Agency (FEMA) to permit shelters to use federal grant money for feminine hygiene products. A third City Council bill would make the city's Department of Homeless Services provide these products to shelter residents.
Menstrual activism and legislation have been gaining steam in New York since the fall. In September, Ferreras-Copeland introduced a pilot program that installed a dispenser of free tampons and pads at a Queens high school and, last week, she announced that it would expand to include 25 public schools in low-income districts in Queens and the Bronx by the end of the month.
Of course, you've probably been hearing about tampons a lot lately, as there's been a lot of discussion about whether taxing them is sexist. Earlier this month, five New York women filed a lawsuit arguing that a tax on feminine hygiene products is discriminatory since they are, in fact, medically necessary items. Meanwhile, things like Rogaine, dandruff shampoo, and face wash aren't taxed. Totally rational. A state bill that would eliminate the tampon tax passed in the New York State Assembly last week but the Senate has yet to vote on it.
Ferreras-Copeland knows these bills will have their critics, but all she wants is the city to budget for these items just like it does with toilet paper. They're the same thing, as Free the Tampons founder Nancy Kramer told the Cut in September. "Men walk into their restroom and they have everything in it that they need to take care of their normal bodily functions — women don't," she said. "I honestly believe that if men got periods we wouldn't be having this discussion."