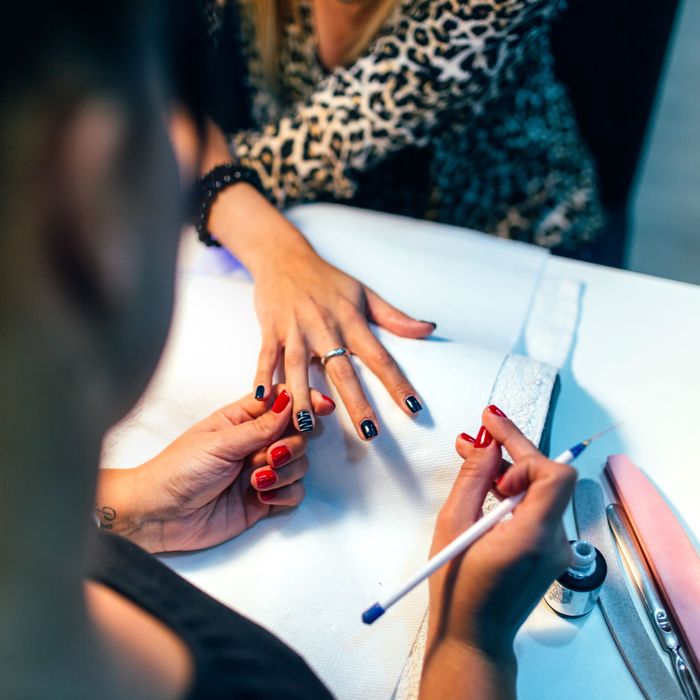 Nail salons ordered to pay up.
Photo: Marco Govel/Corbis
In the months following the New York Times' landmark investigation into New York nail salons and Governor Cuomo's subsequent commitment to crack down on abuses within the industry, state labor investigations have churned up chilling findings. The Times reports that the Labor Department has ordered more than 40 percent of the nail salons reviewed to issue $1.1 million in back wages to underpaid workers. Golden Nails, a salon near Columbia University, was responsible for the city's most egregious salary violations: Six employees were found to be entitled to nearly $100,000 in back pay for three years of work.
More haunting numbers reveal deplorable wages across the board. One Manhattan salon worker was routinely expected to work ten-hour shifts for $30, while another in Queens was paid $200 a week. Ten percent of salons forced workers to pay for manicure supplies, an illegal practice.
Fines, in addition to back wages, were also divvied up among the salons. The largest fine went to Broadway Nail & Spa in Greenwich Village after the salon intimidated and subsequently fired a worker who spoke with labor investigators.

Reports also note that salon owners largely failed to understand fair wage practices, like mandated bonus pay. It seems that if New York City nail salons are ever going to treat their workers ethically, they're going to need education as well as penalties.