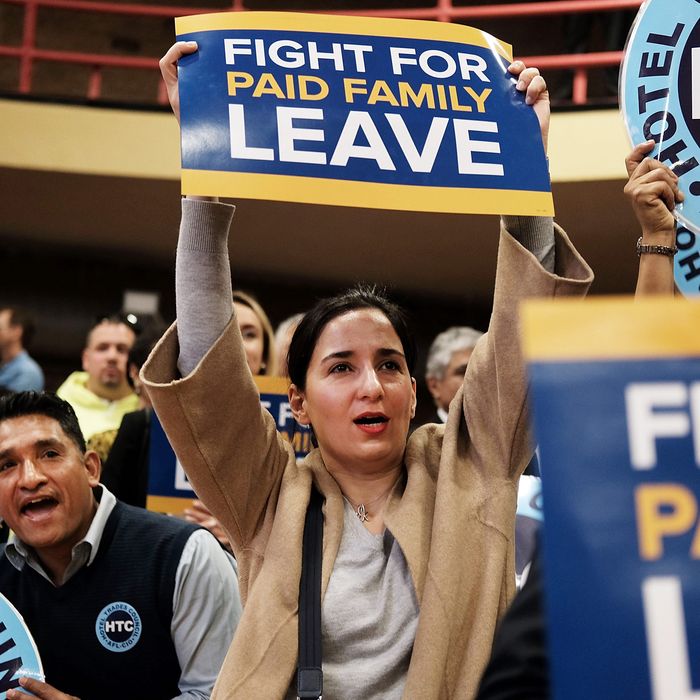 Photo: Spencer Platt/Getty Images
You say you want a revolution? A political, social, economic policy upheaval that will dramatically alter the playing field for millions of Americans by significantly reducing economic and gender inequality?
Don't look to the presidential campaign. Look closer to home.
On the last day of March, the New York State Legislature finalized a budget deal that included not only a promise to raise the minimum wage to $15, but also the nation's newest — and by far its strongest and most comprehensive — bill mandating paid-family-leave time for most employees.
That means that New York has just become the fifth state — after California, which passed its family-leave insurance program in 2002 and implemented it in 2004, New Jersey (2009), Rhode Island (2014), and Washington (which passed its measure in 2007 but has not yet put it into effect) — to mandate paid leave. And compared to its progressive predecessors, New York's bill is startlingly robust.
The program will mandate up to 12 weeks of paid time off from a job to bond with a new child (including adopted or foster children), or to care for a gravely ill parent, child, spouse, domestic partner, or other family member. The duration of the leave, while still far from the 40 weeks guaranteed in the U.K. or even the 16 weeks provided in Bangladesh, doubles the 6 weeks allotted in California and New Jersey, and triples the 4 weeks of paid leave offered by Rhode Island.
Nice, you say, but don't we already have something that guarantees us 12 weeks of leave? Nope, what we have is the Family and Medical Leave Act, which requires that (some) employers offer job protection to (some) workers who need to take time off for familial reasons; it does not mandate that workers be paid for one hour, let alone one day or one week, of that time. What's more, it excludes companies with fewer than 50 employees, requires that those seeking protected leave have been employed by a company for more than a year, and only covers employees who have worked a certain number of hours in the year prior.
Expectant parents shouldn't get too excited yet; paid leave won't kick in until January 1, 2018, and then it will be gradually phased in. In 2018, employees will be eligible for up to 8 weeks of leave a year, followed by up to 10 weeks in 2019 and 2020, then up to 12 weeks starting in 2021. Initially, it will cover just 50 percent of a worker's average pay. Over four years, it will rise and eventually replace 67 percent of a worker's average pay. The total amount is capped at two-thirds of the state's average weekly wage, which in 2014 was $1,266.44. For high-salaried New Yorkers, a weekly max of $848 will mean a big temporary pay cut, yet it's better than what the state currently mandates, which is nothing.
What's more, women and men will be entitled to paid leave. For both straight and same-sex two-parent households, this benefit could have a big impact on family finances and health, according to Dina Bakst, a lawyer and founder of A Better Balance, a legal advocacy group for working families. "It's possible that parents could stagger their leaves," she said, "which is crucial because infant care is so unaffordable and inaccessible. It would make a real difference to be able to hold off on putting a baby in day care until they are 4 or 5 or 6 months old, as opposed to 4 weeks old."
But this program is even more important for single-parent households. Forty-two percent of unmarried mothers live below the poverty line in the United States; about 30 percent of minimum-wage workers are single parents. For those trying to parent or otherwise care for families on low wages, and often on their own, 12 weeks in which to bond with new children and still have money coming in could make a huge difference.
A Better Balance, which has been pushing for this legislation for years, recently released a group of interviews with women and men who had to go back to work — otherwise unable to pay for wipes or diapers — when their babies were just days old; others who worked for small businesses, or saw their hours reduced during their pregnancies, had no jobs to return to after becoming parents.
This last part is why it matters that New York's bill will also include job protection. Job protection is part of FMLA, but only for those who are already covered by FMLA; New York's new state law will also keep jobs safe for those employed by small businesses. A guarantee of job protection also means that an employee won't have to fear that their choice to take advantage of the paid family leave will include the risk of not having their job waiting for them when they return.
The complaint about such programs is that they place undue burdens onto employers. Even if the program is employee-funded, small businesses would still shoulder hidden costs — having to hire temporary replacements or pay overtime to those covering for lost labor. But in California, where up to six weeks of paid leave has now been the mandate for more than a decade, studies have shown that around 93 percent of employers report positive or neutral effects on employee turnover, 91 percent positive or neutral effect on profitability or performance, and 98 percent positive or neutral effect on employee morale.
The notion of state-mandated paid leave has remained in the realm of elusive feminist fantasy for so long that less than two years ago, when Hillary Clinton was asked by Christiane Amanpour about whether or not "paid maternity leave" should be mandated federally, Clinton demurred, comparing it to the fight over raising the minimum wage and predicting that while "eventually" paid leave "should be" a reality, "I don't think, politically, we could get it done now."
But less than a week after Clinton's defeatist proclamation, President Barack Obama would give an interview in which he'd describe the month he took off from work after the birth of his eldest daughter, Malia, as "one of the most precious memories that I'll ever have." Early the next year, he mentioned paid leave in his State of the Union address, and in late 2015, signed an executive order that guaranteed up to six weeks of paid leave to federal workers. In 2015, Senator Kirsten Gillibrand co-sponsored the Family and Medical Insurance Leave Act (FAMILY Act), which — though it has yet to gain anywhere near enough traction to pass — would federally mandate paid leave. And today, paid leave is a part of both Bernie Sanders's and Hillary Clinton's campaign platforms (though her promise not to raise taxes on anyone earning under $250,000, which would preclude the introduction of the small payroll tax that would fund the FAMILY Act, has left her in an uncomfortable corner).
So what changed? How has paid leave become a real possibility in a country that has been embarrassingly unwilling to support parents and children through subsidized leave, full health care, day care, or early-education programs?
One thing that changed in New York is that the governor has, in the past year, made paid family leave one of his priorities. And his evolving investment in the issue offers a valuable lens on how a fight that for years has been considered a women's battle can be won more swiftly when it is recast as a men's fight too.
In 2015, Governor Cuomo's father, former governor Mario Cuomo, died. Two months later, the governor's longtime partner Sandra Lee underwent a double mastectomy after being diagnosed with breast cancer. Since these events, Cuomo's rhetoric on the issue of paid leave has become downright impassioned. In this year's State of the State address, Cuomo said, "Life is such a precious gift and I have kicked myself every day that I didn't spend more time with my father at that end period … I could have taken off work, I could have cut days in half; I could have spent more time with him. It was my mistake and a mistake I blame myself for every day. But there are many people in this state who do not have the choice. A parent is dying, a child is sick, they can't take off of work." Cuomo went on, "At the end of the day, family matters; intimate relationships matter … Let's pass family leave this session."
Then, at a February news conference alongside Joe Biden, who lost his son to brain cancer in 2015, Cuomo said, "There are times in life when you should be with family members, because that's what it's all about at the end of the day … When you have a newborn baby, you should enjoy it … If you have a family member who is passing away, God forbid, you should be there."
It's seems worth noting that an issue that has been considered third-rail-feminist radicalism for decades, so improbable when it is described as "maternity leave" that we wave it off as a pipe dream, can gain steam when political men — Barack Obama, Andrew Cuomo, Joe Biden — put their brawn behind it, and begin to describe the ways in which men might benefit. It's key to understanding how "women's issues" can become, simply, issues.
Make no mistake, this issue, along with the minimum-wage hike, will have a disproportionate impact on American women, who give birth to the babies and sometimes breast-feed them, who hold the majority of the minimum-wage jobs, and still do the lion's share of the family care-taking.
But another way in which it will have an impact on women is by making a difference for men, who will now be better able to stay home to care for their children and loved ones, their fathers and sons and newborn daughters and live-in girlfriends. Paid leave has the potential to make men and women closer to equal in both their range of responsibilities and the support to which they feel entitled, both from the government and from each other.