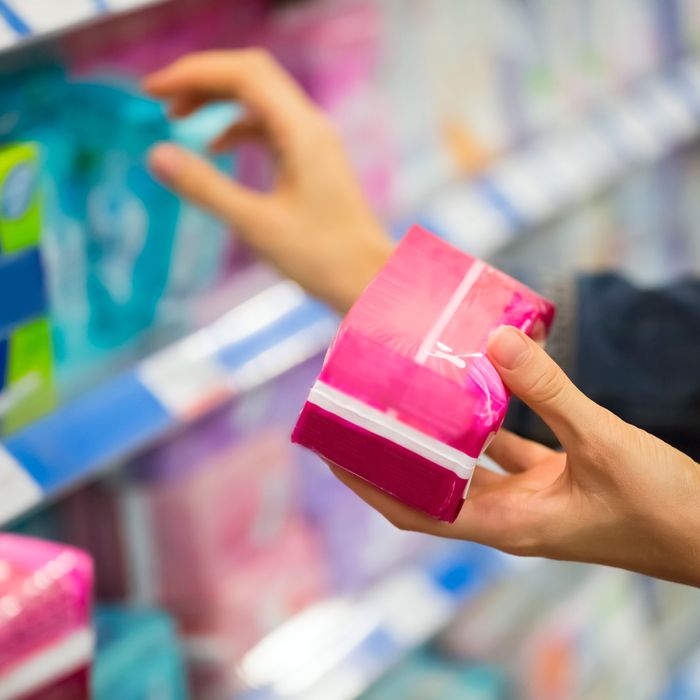 Photo: ShotShare/Getty Images
In January, President Obama was surprised to learn that 40 states tax feminine hygiene products. "I have no idea why states would tax these as luxury items," he told YouTube star Ingrid Nilsen. "I suspect it's because men were making the laws when those taxes were passed." Now, women (and male supporters) are trying to rewrite the laws.
Five New York women filed a class-action lawsuit on Thursday asking the state to end its 4 percent sales tax on feminine hygiene products on the grounds that it's discriminatory against women. The state considers products like Rogaine, dandruff shampoo, face wash, and incontinence pads — which are used by both men and women — to be medical items and they aren't subject to the tax. Yet tampons and pads, which the FDA classifies as medical devices, are taxed. Something doesn't add up here.
The suit also seeks $28 million in refunds for New York women who paid the illegal sales tax when purchasing these products over the last two years. The suit alleges that New York State's estimated 5 million women of childbearing age spend about $70 per year on these products — that amounts to a tax bill of $2.80 per woman. New York State lawmakers announced last month that they're working on legislation to remove the tax, but now the New York Supreme Court will have to weigh in.
People fed up with our overly litigious society might balk at that $2 figure, but this suit is about much more than the extra couple of bucks most women have to spend every year on medically necessary products: It's about reminding people that tampons and pads are indeed a necessity.
Note that the lead plaintiff is Margo Seibert, founder of the nonprofit Racket, a group that collects and donates sanitary products for homeless women. Seibert told Cosmopolitan that she hopes the suit will continue the national conversation about these products. "Menstruation products are essential and it is time to acknowledge that access shouldn't depend on who can afford them. We hope this case will encourage other states to tackle the issue. It's time to talk periods."
Change in New York is slowly rippling to the national level. On Tuesday, U.S. representative Grace Meng (D-N.Y.) announced that she successfully lobbied the Federal Emergency Management Agency (FEMA) to allow homeless shelters and charities to spend federal grant money on feminine hygiene products. Meng is also working to ensure that women can buy tampons with their Flexible Spending Accounts (FSA).
If the New York Supreme Court rules in the plaintiffs' favor, we can only hope that the 39 other states that currently tax these products will follow suit.