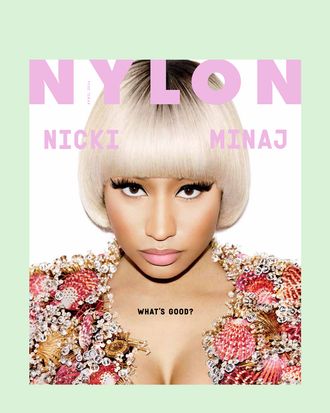 Nicki Minaj, the queen of our hearts and the king of our lives, is the latest cover star of Nylon, with an interview and attitude to match her fierce mug. In the story, Minaj reveals that though she's going to continue taking her time before doing a follow-up to The Pinkprint (sad), she's putting her genius efforts into other new projects in the meantime. Namely Barbershop: The Next Cut and the TV show she's producing based on her life, as well as a few others yet to be announced. As Minaj says, "I've always been interested in business, and I've always been a businesswoman, before I had $10 to my name."
All girls need to have a little fun, though, and that's why Nicki also continues to spend her time nurturing her relationship with Philadelphia rapper Meek Mill, despite his tendency toward being irresponsible (as she puts it). Minaj denies rumors of the pair's engagement, but gives some sound advice on what any woman should look for in a man:
When he and I were just friends, he would always say, 'You remind me of my mother, and I like that because you're like a dude. You're tough like a guy and you talk like a dude.' So I always got the sense that me being tough and bossy was a turn-on for him. And it's important for me to keep my voice. Being in a relationship shouldn't mean that you lose your voice. Being in a relationship should mean that you've met a secure-enough man to allow you, in a sense, to remain a queen.
We're listening. But … Meek?