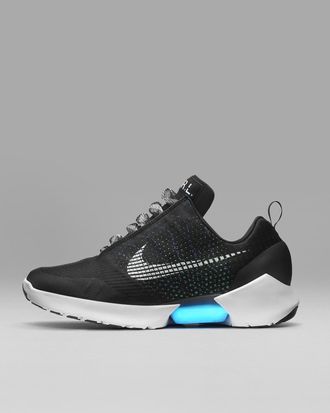 The Hyperadapt sneaker.
Photo: Nike
In technology's quest to boil down our routines to fewer and fewer steps, we've finally arrived in bona fide Marty McFly territory. Nike's HyperAdapt 1.0, unveiled today as part of the brand's Innovation 2016 event in New York, is that much-dreamed-of invention: a self-lacing shoe. (It's been a long time coming — the company had filed a patent for the technology, which it calls adaptive lacing, back in 2010.) The brand sent a pair of self-lacing MAG shoes to Michael J. Fox last year in honor of Back to the Future Day, and now the public will be able to get a taste of the gadgetry — the shoe will be available this holiday season, but only to Nike+ members for the time being.
Cristiano Ronaldo has already gotten his hands on a pair — which make a pleasantly sci-fi little whirring sound — and he approves.