Meet the New 'No Hairstyle' Hairstyle
If the beauty trend the past two seasons was no-makeup makeup, fall 2016's big trend can be described as "no-hairstyle hair." Another way to describe it might be "real-girl hair" — like rich-girl hair, only with static and other imperfections. "Are you taking out the frizz?" I asked hairstylist Paul Hanlon, backstage at Rag & Bone. "No, no, we're keeping that in," he explained.
At Vetements, the hair looked plain and a bit grungy, described as "matted down and slightly staticky." Colorist Andreas Kurkowitz even gave what he described as "flat, matte hair color" to five of the models a few days before the show, dyeing their hair to look dingy, like it had been left to lapse between salon appointments.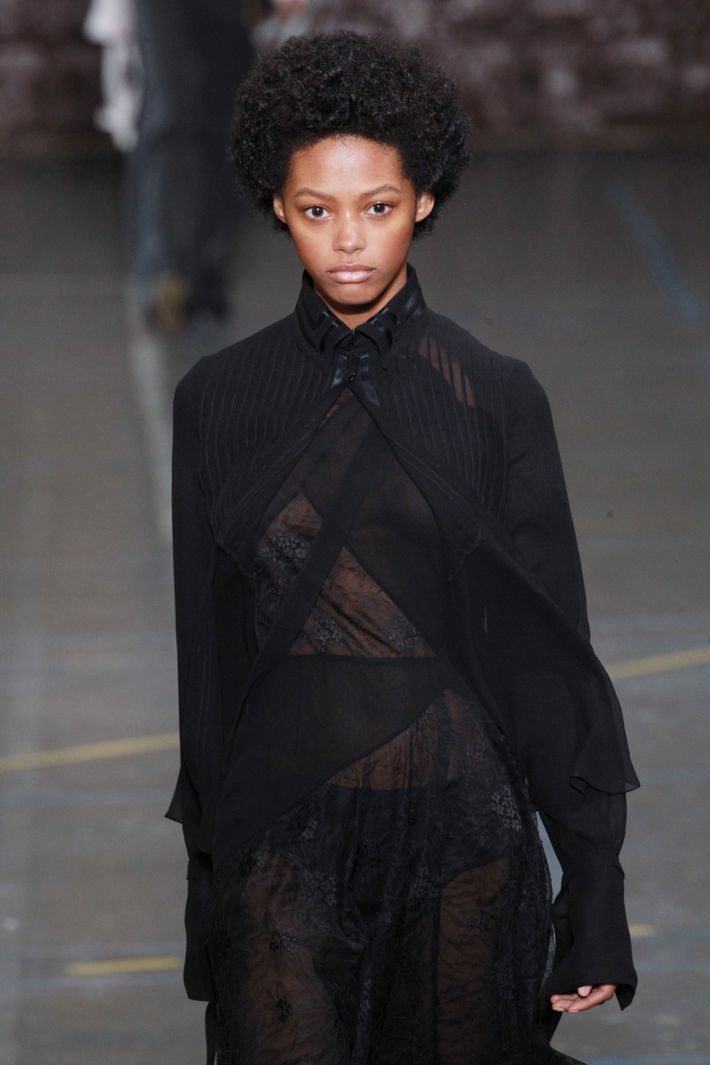 At Céline, one of the first shows to champion individual beauty in fall 2015, Guido Palau told the Cut in an exclusive interview that the main theme was simplicity: "Phoebe talked about how she likes the girls when they walk in for meetings. It's always ease. It's never a forced kind of feeling," he said.
The mix of side parts, ponytails, easy buns, straight hair, and natural hair at Céline reflected the variety of hairstyles a normal girl might attempt in the course of a day, without the assistance of a hairstylist or a salon (though perhaps with the aid of Redken Beach Envy Wave Aid, which Palau used backstage). This is the ironic truth of modern-day hair: No matter how many hairstyle tutorials you watch on YouTube, your default options are probably still just "down" or "up." If the Pareto principle were applied to hair, it'd be that you attempt the basic hairstyles you know 80 percent of the time, and attempt something beyond your hair comfort zone 20 percent of the time.
Off the runway, this hair trend might not mean much. Like no-makeup makeup, it's not really new: Most people, even celebrities like Kim Kardashian, want their hair to look like nothing has been done to it. (Aren't we lucky, by the way, that the time-consuming finger waves that we saw in New York haven't caught on this season?)
The fallacy of no-hairstyle hair, much like no-makeup makeup, is that models aren't skipping the hair chair (although they might spend less time in it). All of the explanations for how to "get the look" backstage still mention at least three steps and multiple products. There hasn't been a hair equivalent of Marc Jacobs's no-makeup show (yet), and hairstylists still tend to fuss even over models with very little hair like Ruth Bell, adding things like shine serum. But here's to more useful hair tips this season, and at the very least, the celebration of more natural styles and natural hair on the runway.