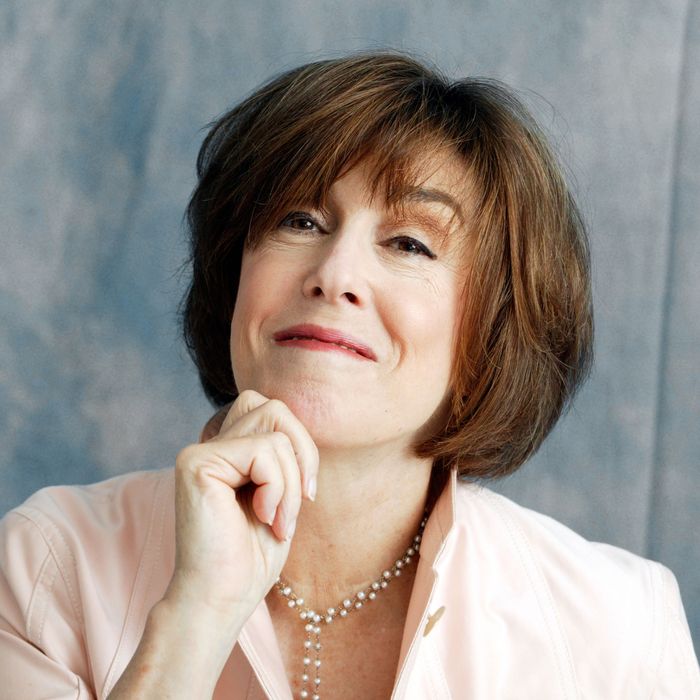 Nora Ephron, photographed in 2005.
Photo: Armando Gallo/Corbis
Jacob Bernstein spent the last few years making a documentary about his mother, Nora Ephron, after her death in 2012. The film is a very intimate look at the witty, beloved writer-director's life, and Bernstein has been promoting it and holding screenings, and now it's about to air on HBO (on March 21). So how does he feel now that this very personal project will belong to the world? "I think in some way the toughest thing was letting go of it," Bernstein told the Cut at a MoMA screening on Monday. "People say, How difficult was this for you? And it was, but it also was the opposite of closure, in a certain way. I think closure is a totally overrated thing; I think it was continuance, that instead of talking to her on the phone and going to dinner with her, I was watching her on a monitor and reading her old essays, and, you know, even reading the book that she wrote about Johnny Carson. And so I was hearing her voice all the time," he said.
Bernstein added that after the movie screened at the New York Film Festival last fall, his friend, the journalist Lynn Hirschberg, told him that she was worried about how he would feel now that the project is done. "And, in fact, 24 or 36 hours later, I just felt this … just this kind of quiet … just like a wind of sadness," he said. "[Making the movie] wasn't good-bye, this was, you know, holding on." At the HBO screening, some of the attendees remembered their own experiences with Ephron.
Christine Baranski: "I did an early reading of her Lillian Hellman and Mary McCarthy piece [Imaginary Friends], and this was before it ever had a possibility of going to Broadway. I was, of all people, Lillian Hellman — typecasting, right? And she was in the bathroom with me, and we were just like girls, you know, combing our hair, and she was like a teenager, she was so excited about it. 'Oh my God, isn't this fun? We're doing a play!' And because she was, you know, a sophisticated New Yorker, I loved seeing that she was so giddy with excitement about the possibility. And I wish I had done it with her. I had to back out of the production because my mom was ill. I wish I had had the Nora Ephron girlfriend experience."
Joan Juliet Buck: "At a lunch about ten years ago, I said to Nora, 'You've done so much, and you do it so wonderfully, how do you manage to not get in your own way?' And she gave me an answer, and here's the horror: I cannot remember! I was so blasted by the illumination of what she said that it just kind of dissolved around me … When I played the bitch in Julie & Julia, there was so much leftover food from all the scenes where they were making food. She had a whole kitchen on the set turning out quiches and cakes and cookies all day long, that would just keep appearing."
Gayle King: "There's nobody who was as funny as she was, or as smart and quick as she was. She just had a way of sizing up a situation in a very not-mean-girl way. You know, that's something you could size up, but she would say what everybody was thinking, but she would just do it in a nicer, kinder, way."
Carl Bernstein: "We had a lot of funny times together! Nora was funny, we could be funny together. And then sometimes we weren't so funny together. But yeah, lots of 'em — some of which she's written about."
Ephron wrote about the dissolution of her marriage to Bernstein, Jacob's father, in her novel, Heartburn, which later become a movie starring Jack Nicholson and Meryl Streep. It was two years before Carl, a journalist most famous for breaking the Watergate scandal, agreed to appear in his son's movie, but he's thrilled with the result. "It's a wonderful picture of Nora," he said. "You see how good a reporter Jacob is, and what a wonderful filmmaker he is. And you see both the tenderness toward his mom, and the willingness to step back a little bit, as she was capable of doing sometimes, and saying, Well, I want to also look at this really reportorially and find out. I want to know. And I couldn't be prouder."