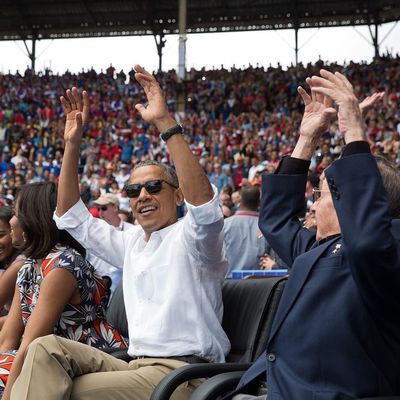 DAD.
Photo: Pete Souza/The White House
Our nation's coolest teens recently spent their spring break on a family trip to Cuba, artfully pretending the pouring rain wasn't a total vacation downer and even stepping in to act as translators when their dad struggled with his Spanish. But even on an island getaway there was one thing Sasha and Malia Obama could not escape: their dad being embarrassing.
According to the Times' roundup of the trip:
The daughters appeared cheerier in the sun on Tuesday during a baseball game at the Estadio Latinamericano, watching the Tampa Bay Rays beat the Cuban national team. But when Mr. Obama and the rest of his entourage rose to do the wave, Sasha stayed seated, her arm over her face as if mortified.
While Sasha attempted to hide her face from the crushing embarrassment of her dad's antics, her mom, Michelle, used her posture to communicate an important message: "Who, that weird guy next to me doing the wave? No idea who he is."