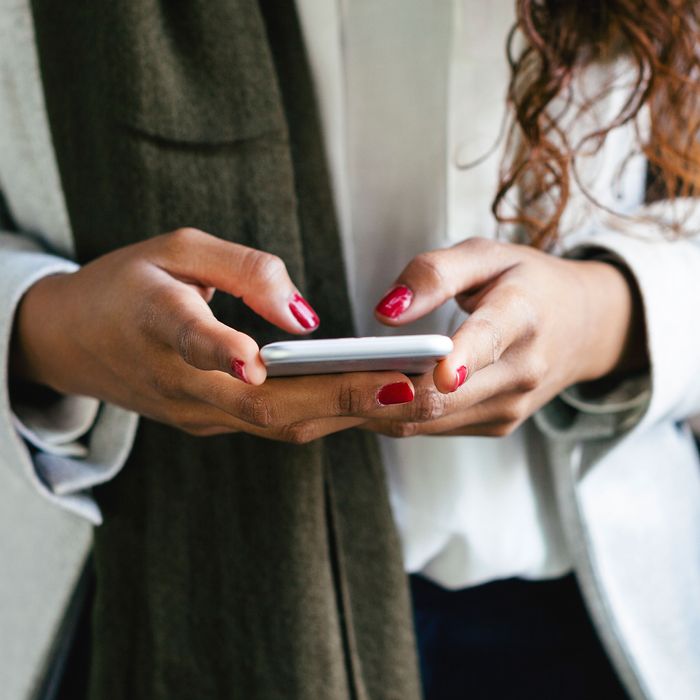 She's taking the plunge!
Photo: Bonninstudio/Corbis
OKCupid has released a study that finds women who message first on OKCupid not only have a better chance of getting a date, but also tend to meet higher-quality men. Obviously.
Unlike Tinder, you don't have to match with someone on OKCupid in order to message them. So any straight or bi woman who has ever used the site understands that part of the deal is getting a lot of messages from men that range from subtle negging to straight-up sexual harassment. (Never mind the assortment of lackluster opening gambits consisting of  "hey," "hi," and "'sup.")
Of course, women are more likely to have success with the men they choose to message on OKCupid — because we can weed out the blatant misogynists, the catfishes, the profiles sans photos, the men who think women have an "obligation to keep their legs shaved," and the ones who believe men should be the "head of the household."
It appears that OKCupid released this study to encourage women to stop "settling" — or waiting for guys to message them — and instead "shoot for the moon." After all, men are three and a half times more likely to send the first message than their female counterparts.
The study (which sampled 70,000 random OKCupid users) concludes that women are "at an incredible advantage" when using the site because there are one and a half times as many men using the service. Yet while that might be true strictly in terms of the numbers, women are arguably still at a disadvantage because we have to do the labor of sifting through sexist messages, profiles, microaggressions, and unwanted sexual advances.
(And no offense, OKCupid, but have you heard of Bumble? It's an app created to solve this whole messaging-first problem you just noticed.)
So, if you want to find the least scrubby men on OKCupid, put in a little extra effort, sift through some profiles, and make the first move.