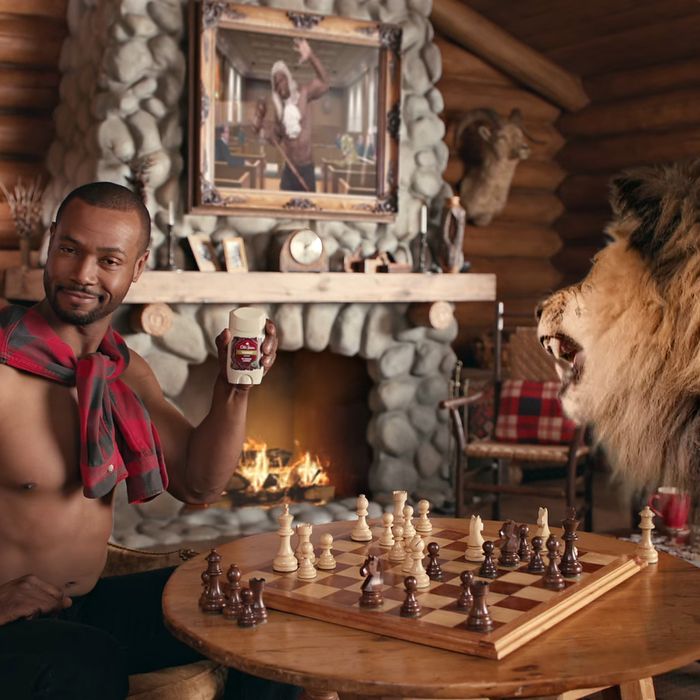 Isaiah Mustafa and Terry Crews stinking it up.
Photo: Old Spice/YouTube
Cheer up, Axe Body Spray, vehicle of toxic masculine fumes: You're no longer the only man product causing people bodily harm. WWD reports that a guy named Rodney Colley has filed a lawsuit against Procter & Gamble alleging that its Old Spice deodorant causes irritation, rashes, and burning.
The suit, which includes photos of the irritated pits of Colley and others, names 11 different scents (or Tinder pic captions?) as possible culprits: Old Spice After Hours, Champion, Pure Sport High Endurance, Arctic Force High Endurance, Bearglove, Lion Pride, Swagger, Fresh High Endurance, Aqua Reef, Classic Fresh, Fiji, and Wolfthorn.
As P&G said in a statement, "We go to great lengths to ensure our products are safe to use, and tens of millions of men use this product with confidence and without incident every year. A small number of men may experience irritation due to alcohol sensitivity, a common ingredient across virtually all deodorant products. For men who have experienced a reaction to a deodorant, an antiperspirant may be a better option because they have a different formulation."
Colley is seeking damages of at least $25,000, and his lawyer said there's a possibility of a class-action lawsuit since they've received "many inquiries."
Now who's going to file a cease-and-desist order for all ads that show Terry Crews yelling at Isaiah Mustafa?