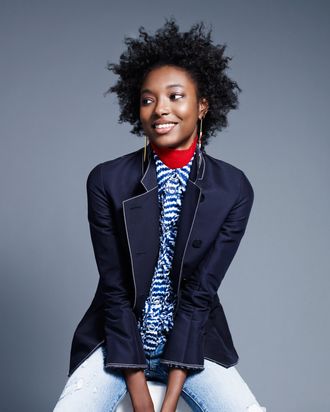 Having a closet full of good basics is the easiest way to make getting dressed in the morning less painful. That doesn't necessarily mean they have to be boring — it's all about choosing pieces that have interesting tweaks and putting them together in unexpected ways.
Take this navy blazer with its white top-stitching and slightly undone hem. It can be dressy when worn with tailored trousers but it's more fun to throw it on with a pair of distressed jeans. To give the outfit more interest, slip a ruffled patterned shirt along with a red turtleneck underneath and consider it a riff on the traditional suit. Then add dangly earrings that pick up on all the colors in the look. As for the shoes, you could be super-casual with white sneakers or add bright-red pumps to really take it up a notch.
3.1 Phillip Lim blazer, $750 at 3.1 Phillip Lim locations, for similar try Jil Sander Navy blazer, $89 at Yoox; Rosetta Getty sleeveless turtleneck, $720 at SSENSE, for similar try Cashmere Addiction long-sleeve turtleneck, $49 at MyHabit; Karen Walker Clipper Frills shirt, $229 at Karen Walker, for similar try Equipment collarless blouse, $155 at Spring; AYR Form jeans, $225 at AYR (available April), for similar try Forever 21 distressed jeans, $27.90 at Forever 21; Tory Burch stone inlay earrings, $195 at Tory Burch.
Photographer: Nadya Wasylko; styling by Diana Tsui; model: Shamone Edwards at Muse Management; makeup by Kajsa Svanberg; hair by Jerome Cultrera; photo editor: Emily Shornick; photo assistants: Scott Simpson and Pablo Espinoza.