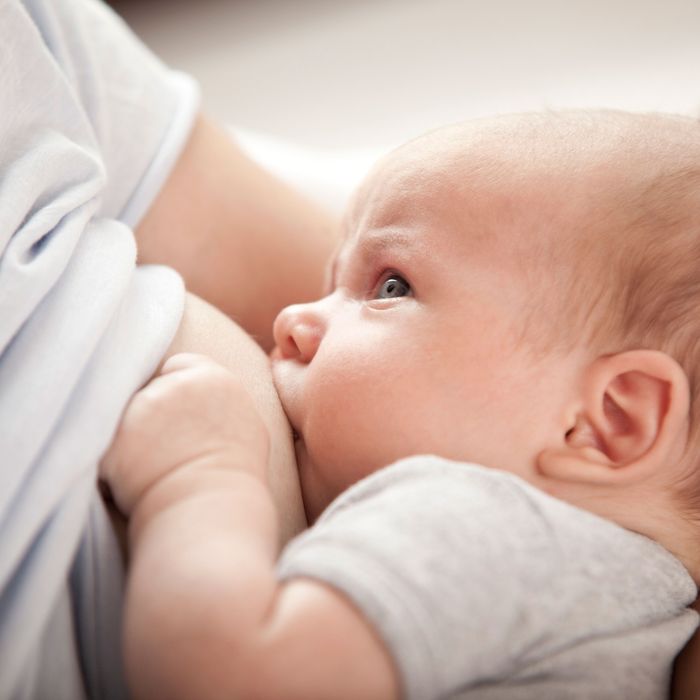 A woman breastfeeding.
Photo: Michelle Fraikin/Corbis
A new study published in an upcoming issue of the medical journal Birth has found a strong correlation between paid maternity leave and women successfully breast-feeding.
The concept that you need time at home with your baby in order to become its reliable, milk-producing food source shouldn't come as a shock, but this represents one of the first studies to specifically examine the relationship between paid time off and breast-feeding. The study was conducted by three doctors who work at the CDC and examined survey responses of 2,635 mother-and-child pairs. In all cases, the mothers were employed prior to giving birth.
The United States, which has no paid parental-leave policy, also lags behind many other industrialized nations in breast-feeding. Though pediatricians and health organizations recommend that babies be breast-fed exclusively for the first six months of life, only 19 percent of U.S. infants actually are, and only 27 percent are getting any breast milk at 12 months. The medical benefits of breast-feeding are well-documented for infants: Breast-feeding has been proven to reduce the incidence of SIDS (Sudden Infant Death Syndrome), asthma, and other infections. So there are also increased health costs — the study estimates about $2.2 billion a year — because U.S. infants are not breast-fed.
So what about that study? Well, its results are pretty clear: 87.3 of those with 12 weeks of paid leave or more started breast-feeding their infants right away, while only 66.7 percent of women with no paid maternity leave did. And while only 24.9 percent of those who had no leave were still breast-feeding at the baby's 6-month birthday, over half — 50.1 percent — of those who had received 12 weeks of paid leave were. Those with lesser amounts of leave — say four weeks paid, for example — mirrored the lower rates of those who had no leave at all.
In other words, having 12 weeks of paid leave made it three times more likely for a mother to start breast-feeding her newborn and twice as likely to still be doing so six months later.
The study points out that recently, three states have adopted paid-leave policies voluntarily: California, Rhode Island, and New Jersey have all begun offering leave to new parents. But, as the study points out, the four to six paid weeks may not be enough, as it seems that for many mothers, having 12 weeks or more to spend with their new babies is key to forming the breast-feeding bond.
Duh.