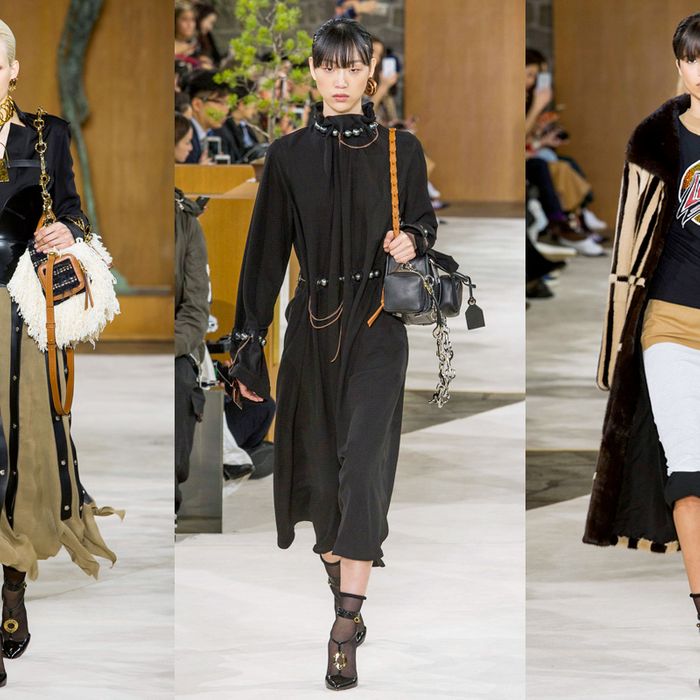 We're recapping our five favorite moments from each day of Paris Fashion Week. Below: the best, prettiest, and weirdest things we saw on Day Four.
1. The clothes at Loewe. We could write an entire list dedicated to the wonderful Loewe show: It was a checklist of feminine, artful clothes we wanted to wear, plus fabulous shoes and bags and killer jewelry. Our favorites included a graphic overcoat worn over a glitzy tee and straight skirt, an easy black dress with bauble details at the neck and waist, and a skirt of leather and suede that swung down the runway. The pointy pumps worn with little sheer footie socks were the perfect finish.
2. The setting at Loewe. The crowd drooled over the modernist set at UNESCO headquarters. It felt like the sitting room of an art collector: Giacometti sculptures, palm fronds, a gorgeous mid-century modern chair (for admiring, not for sitting). The show seats were comprised of gilded cubes, marble-like squares, and clear plexiglass boxes filled with household items like plastic razors, steel wool poufs, and Brillo pads. It was gorgeous, odd, and totally curated to our pleasure.
3. The beauty look at Dior. Dior debuted the dark, glam lipstick that everyone is going to want this season, a shade called Dior 962. The addition of gloss on top gave the look a futuristic, luxurious feel. Backstage, there was lots of careful sipping through straws and ink blotter lip stains on the tea sandwiches.
4. The futuristic makeup at Issey Miyake. Inspired by the hidden 3-D construction of Miyake's designs, makeup artist Alex Box for MAC Cosmetics and James Pecis created cellophane-appliquéd faces and origami-fold hair. Models stopped by Box's makeup station so that she could attach small pieces of hand-cut cellophane to their eyelids, cheeks, and chins. Pecis created shiny, geometrically jutting parts in the models' hair, affixed with hair elastics, then gathered it all into two simple pigtails. Small tufts of fake hair were used to create fluffy ornaments that gave the models the silhouette of a baby dinosaur when seen from the side.
5. Isabel Marant was totally '80s. There's been an '80s undercurrent trickling through the shows in Milan and Paris, and Isabel Marant made it clear that she, too, was inspired by the Me Decade (while also tapping into rockabilly culture). The soundtrack included Toni Basil's "Hey Mickey," and there were puffed shoulders, pointy creeper boots, slick red patent leather, and zebra prints galore.