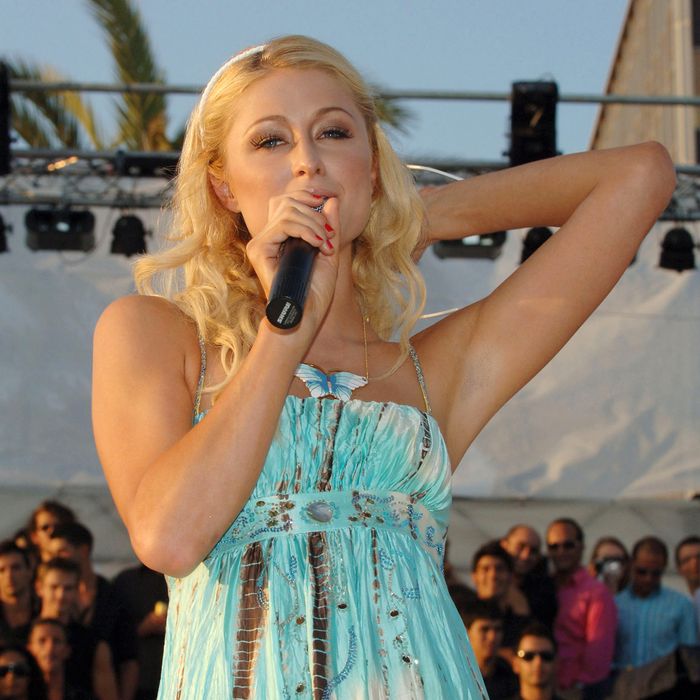 Paris Hilton has your hot jam for summer 2016.
Photo: Claudio Guerrero/Getty Images
Oh hey, Rihanna, were you hoping "Kiss It Better," the second single from Anti, was going to be the Song of Summer? Beyoncé, did you have a whole album full of songs you thought might be the Song of the Summer? Bieber? Kendrick? Miguel? Gwen Stefani? Diplo? Flo Rida? You guys got anything? Doesn't matter, because Paris Hilton announced today via Instagram that she's back in the studio recording her new #summersingle.
Before you're all, Paris Hilton? Song of Summer? You crazy! No way could that happen, consider this: "Stars Are Blind" the frothy, reggaeton-inflected "Tide Is High" knockoff from her 2006 album, Paris, hit No. 18 on the Billboard 100 charts and was huge in Ecuador. The song was about as substantial as a Bud Light Lime, but who hates Bud Light Lime, especially in the summer? Some might even argue that Bud Light Lime is good and will actively seek it out at the 7-Eleven, and then make sure the cooler at the beach party is stocked with Bud Light Lime tallboys. And maybe you're not really that into Bud Light Lime, but it's way too hot for an IPA or that weird craft beer Nathan insisted on buying, so you'll drink it because you're at the party, you're thirsty, and it's there and inoffensive, and after the third or fourth time, it actually tastes pretty okay!
Don't say I didn't warn you.