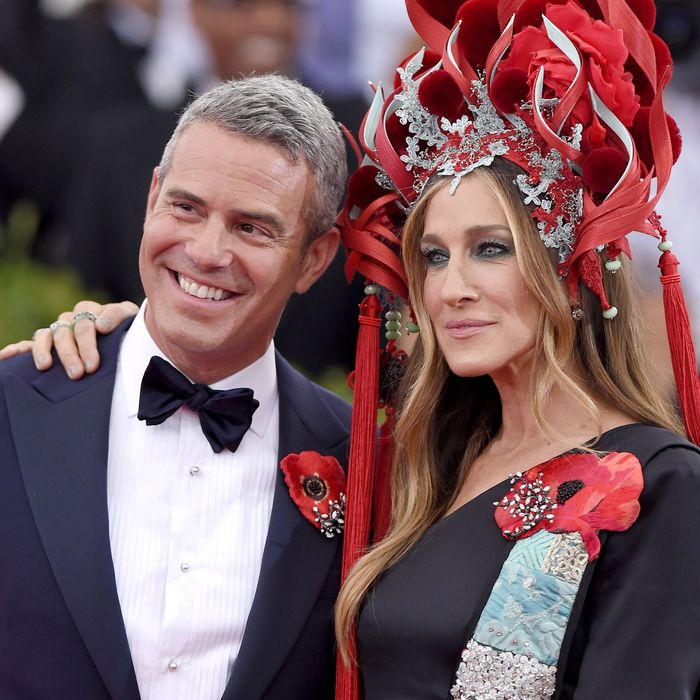 Andy Cohen and Sarah Jessica Parker at the Met's Costume Institute Benefit Gala last spring.
Photo: Axelle/Bauer-Griffin/Getty Images
The Parsons School of Design has announced honorees for its annual Parsons Benefit showcase this spring, spotlighting four famous women for their social impact in various fields: Sarah Jessica Parker, Arianna Huffington, Parsons alumna Donna Karan, and New School graduate Beth Rudin DeWoody.
"We selected these women not only because of their leadership in their respective fields and their celebration of art and design, but also because of their significant efforts to create positive social change," Burak Cakmak, dean of the School of Fashion, told the Cut. "Our honorees are truly effective global citizens and examples that our current students can look towards."
Now in its 68th year, the Parsons Benefit raises student scholarship funds to support and cultivate emerging designers who wouldn't be able to attend Parsons otherwise. The allure of this spring's glitzier, celebrity-driven event will also mark the first collaboration with the New School's College of Performing Arts, featuring performances from students like two-time Latin Grammy nominee Linda Briceño.
Bravo's Andy Cohen will host the Parsons Benefit on May 23 at Chelsea Piers, where graduating fashion-design students will present a runway show.