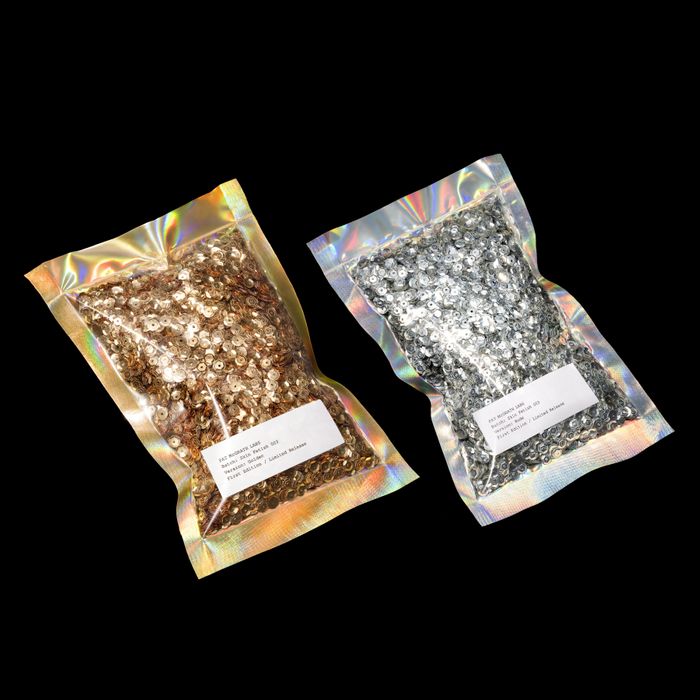 Pat McGrath's new launch is really, really good.
Photo: Skin Fetish 003
Backstage at a show Pat McGrath is working on, secrets are highly guarded. McGrath dispenses products to her team of makeup artists using small, plastic Robitussin cups so that no one can tell where the mysterious pigments come from. But one of those secret salves, a highlighter balm and shimmer, will be available for sale next month.

"This is the secret," McGrath kept stressing last week at an interview. "People have wanted to know for years what the secret was, and now this is it." It refers to a three-step system that McGrath uses to create glow and her mega-watt strobing technique. ("We've been doing it for 20 years!" she said, when asked about the trend.) "You can look dewy, athletic, sporty, or alien-angelic," she said.
The new kit, Skinfetish ($73), consists of a double-ended stick with a shiny balm (like a shimmery version of Chapstick) on one side and a shine stick on the other.
It also includes an innovative, glimmering gel-powder pigment, meant to be dusted on top of the balm and/or shine stick with an accompanying brush. ("Made in Japan, like all those brushes, if you know what I mean," said McGrath, winking.) It comes in two shades: Golden 003, a Champagne-based color, and Nude 003, a white-lavender shade.
Backstage at her shows, McGrath used to shout, "Give me the shiny stick!" And the shiny stick is replicated here — miraculously imparting glow without glitter or hardness. It is very, very good, even better than the Kim Kardashian highlighter.
Even without McGrath's expertise, using any one or all three of the shiny makeup accessories bathed my cheekbones in a soft, angelic, otherworldly glow. My pallor that day, thanks to a week-long cold/flu, was muted. In photos, I looked healthy and vibrant. I couldn't stop looking at my cheeks, and I kept pointing them out to my co-workers. I was downright annoying — but it's actually that good.

You can try out the kit for yourself on Tuesday, April 26, at 12 p.m. on patmcgrath.com (the wait list is open now) and for the first time ever, nationally, at sephora.com and in select Sephora stores on May 10.