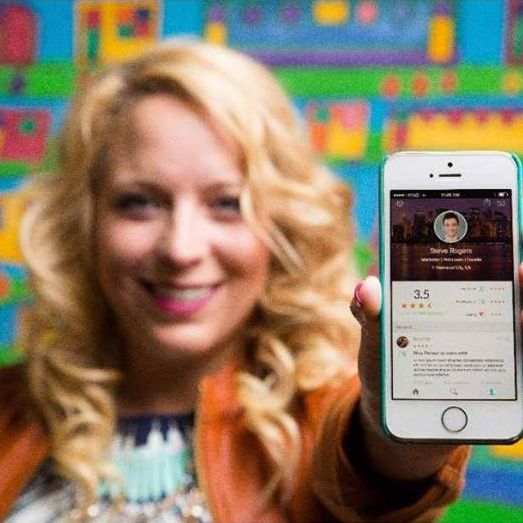 Remember Peeple? Back in October, the start-up kicked up a fury when outlets started reporting about the app it was developing, which would allow human beings to rate other human beings as though they were restaurants or bookstores. That would be bad enough, but according to the app's developers, it was going to be possible to create someone else's profile for them and rate them. And while some safeguards would ostensibly be in place, my conversation with Julia Cordray, a co-founder (scroll to the update at the bottom of the piece I linked to above), made it clear that it wouldn't be difficult at all to create a profile for someone you dislike and say mean things about them.
It all seemed like a recipe for disaster, especially at a time when there's so much focus on and conversation about online harassment. In fact, I came away from the story semi-convinced Peeple would never launch at all, that the founders would see the reaction their app-in-progress had elicited and say, No, thanks.
I was wrong. Peeple launches Monday. And it's looking pretty watered-down, according to the Calgary Herald — maybe watered-down in a good way:
Peeple will let users rate each other in three areas: personal, professional, and romantic. In a change from the original concept, reviews are only posted with the consent of the person being reviewed — that is, the service is opt-in and a user can hide their negative reviews.

But a planned future paid subscription Cordray called the "truth license" — not available for Monday's launch — will let users see all reviews, even hidden ones."If a mom wants to look up a coach for her kids, she can see all the amazing things on that person's profile, but maybe there's some areas of improvement for that person," explained Cordray.

"So when the mom upgrades to the truth license, she'll be able to see all the recommendations on the back-end that the coach never published on their profile."

In other words, assuming most people wouldn't voluntarily make their negative reviews public, the app could in effect be positive-feedback only without the subscription, which Cordray said they hoped to offer by April.

"That's a way to try to have it both ways," said Tom Keenan, a University of Calgary professor and author of a book about technological privacy. Keenan believes these changes move the app "from controversial to

irrelevant."

"I guess there might be a few nuns who want to give each other references and be honest and frank and friendly, but I don't think the general public wants to do that," he said.

It seems pretty likely that as soon as the "truth licenses" launch, all of the mischief people worried about will begin, since there will be no check on false negative reviews. Hopefully the paywall will mitigate the damage. In the meantime, on Monday we'll see just how seriously the co-founders took the wave of public criticism that hit them last year.