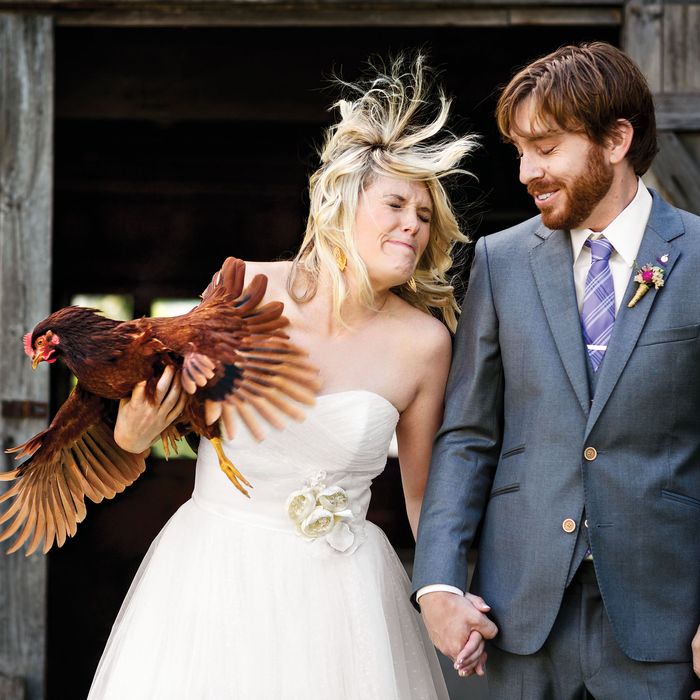 My bridesmaid, the red hen.
Photo: Tracey Buyce
Imagine walking down the aisle with a pair of tuxedo-clad French bulldogs or taking bridal photos with barnyard donkeys. Sure, there might be some small mishaps — like when your pet hen gets mad about being used as a "chicken bouquet" (see above). But click ahead to meet nine couples who have no regrets about bringing along their furry, feathered, or scaled friends on their wedding days.
*This article appears in the summer 2016 issue of New York Weddings.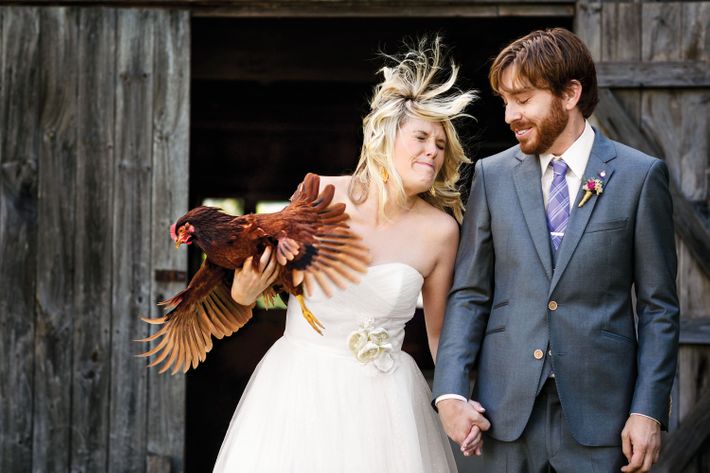 "We've had Nugget since she was a chick. For our pre-wedding photos, I had her nestled in my arms, but she started waving her wings around. I think she was pissed that we were using her as a 'chicken bouquet.' We both got drawings of her tattooed on our wrists last fall." —Eliza & Zack Clark-Whedon, screenwriters. Married September 2, 2012, at a family farm in Howes Cave, New York.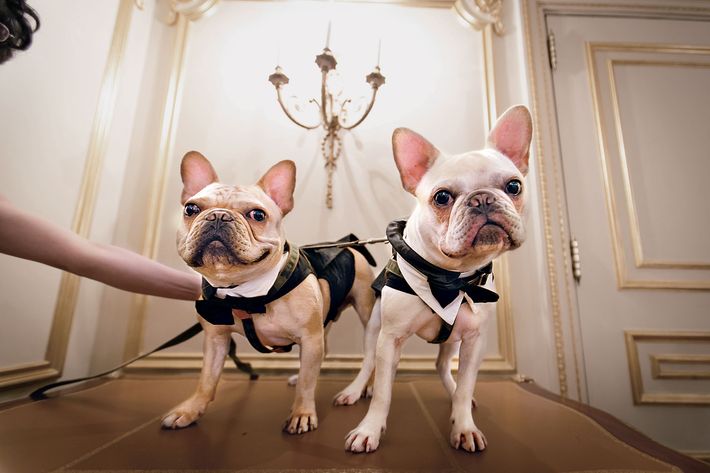 "We thought it would be fun for our French bulldogs, Kalbi and Cairo, to walk down the aisle with my sister, and because our wedding was black tie, we got them these little tuxes. We didn't think too much about logistics, so when they were walking, they were a little distracted by the flower petals." —Laura Pei & Evan Lodes, business-analytics manager, investment professional. Married June 22, 2013, at the St. Regis.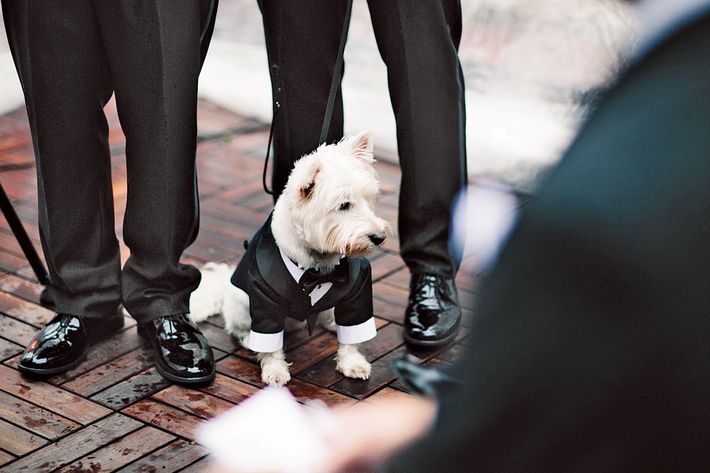 "Before the wedding, I basically went Etsy-crazy, and Fantasie Design Shop was able to make our Westie Cardozo's tuxedo to match Joe's exactly: It was a midnight blue, with a shawl collar and cuff links. The whole process took three months, and she had to order special fabric and tiny shirt studs." Ashley & Joe DePalma, attorneys. Married October 2, 2015, at the Midtown Lofts.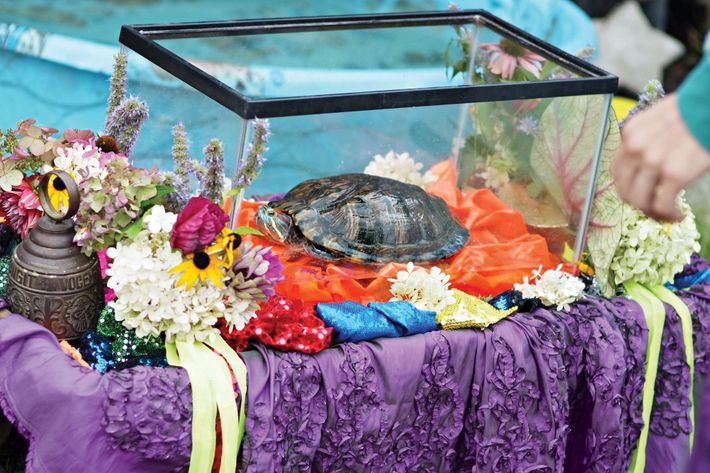 "We thought of building a little track for our turtle, Princess Bucket, to walk down the aisle on. She's fast when she wants to be, but she's pretty strong willed — it could have been a long wait. The venue had an old wagon, and we had piles of fabric and trims, so we made a mount for her cage that a friend wheeled down. During the party, she hung out in a baby pool. We were scared of the turkey vultures that were circling, so we always had someone keeping an eye on her." Kevin Muth & Mark Snyder, head of sales, store owner. Married August 31, 2013, at Moresca in Ulster Park, New York.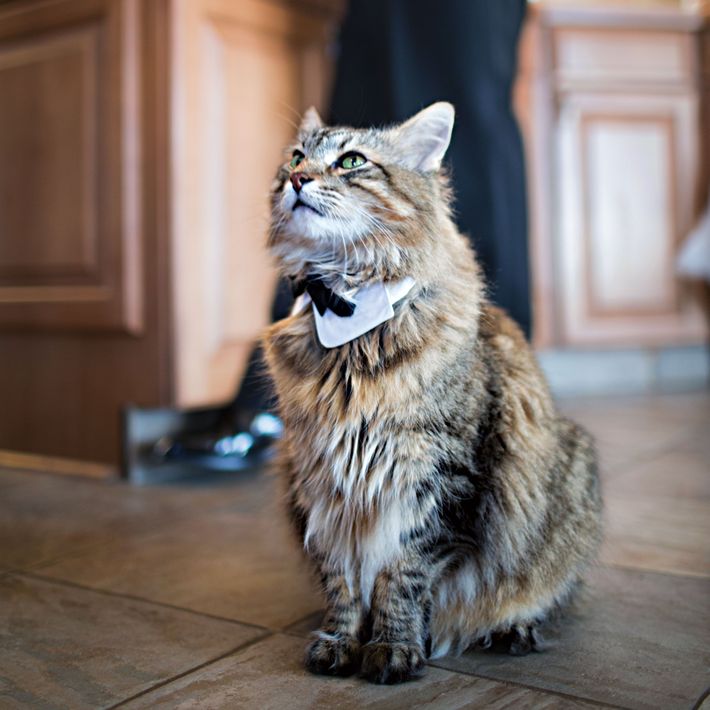 "Bringing our cat Menace to the church was not a possibility, but it seemed right that he be a part of the getting-ready. We found the bow tie at a pet store on Cape Cod, and when Menace had it on, he would preen a bit and show it off." Mary Kate & Drew Kasler, nurse practitioner, IT manager. Married November 15, 2014,at St. Joseph's of Yorkville. Reception at Giando on the Water.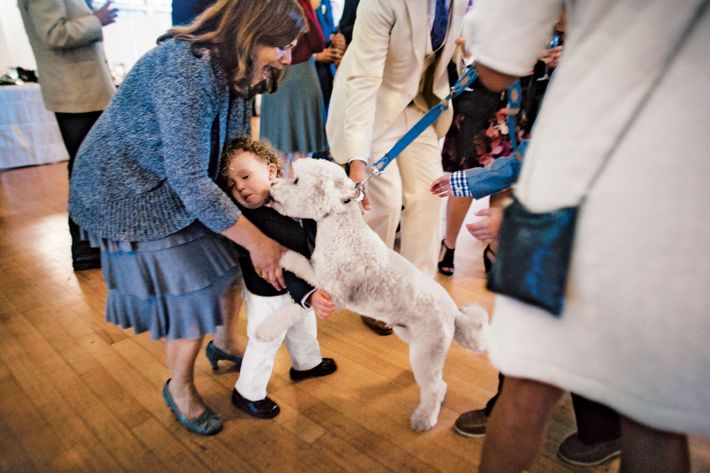 "Our neighbor brought Gio over to Prospect Park for our cocktail hour, and I think he was really excited to be included in the wedding. He sees himself as a member of the family, and we see him that way, too. He was especially happy to greet our son Asher. Asher is used to all the dog licking, and Gio jumping on him, and he is absolutely unflustered by any of it." Michael Ravitch & Daniel Hurewitz, writer, professor. Married May 23, 2015, at the Prospect Park Picnic House.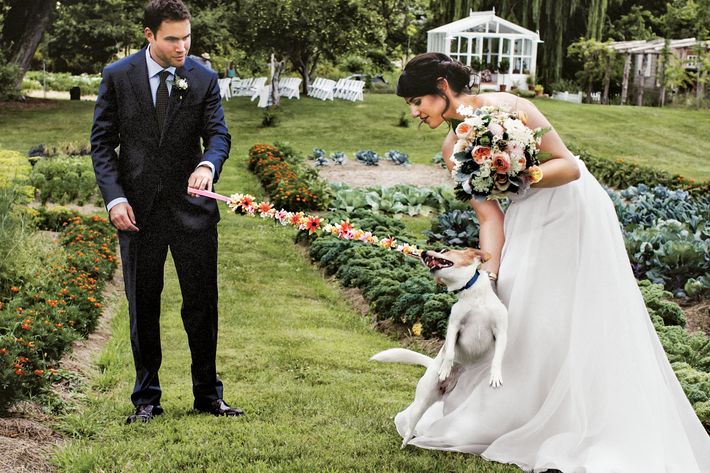 "Sally, whom I adopted when I was in grad school, is a very well-behaved dog most of the time. But after my best friend walked herdown the aisle, she stood there during the ceremony and whined the whole time. She cried more than anyone else during the wedding." Molly Goldman & Ben Koenig, teaching artist, sales representative. Married July 25, 2015, at Liberty View Farm, Highland, New York.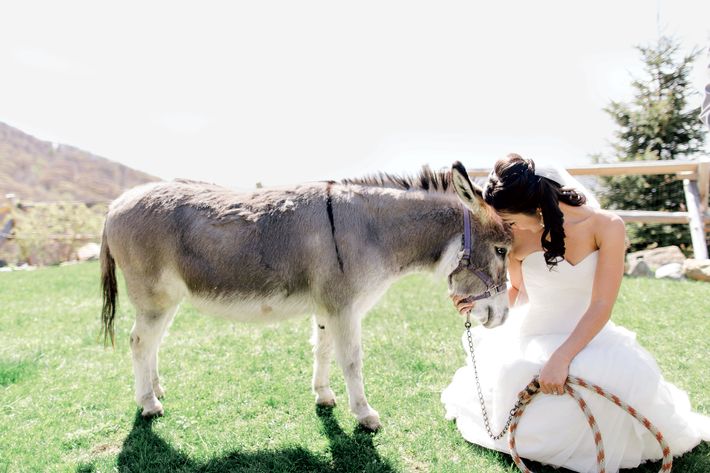 "I wanted my dog in the wedding, but the venue said no. I really wanted animals involved, and I found a barn where my bridal party and I stayed the night before the wedding that had donkeys on the property. We decided to take our photos there; I was more excited about posing with the donkey than the first look!" Yukari & Timothy Li, catering chef and food blogger, hedge-fund analyst. Married May 2, 2015, at the Highlands Country Club, Garrison, New York.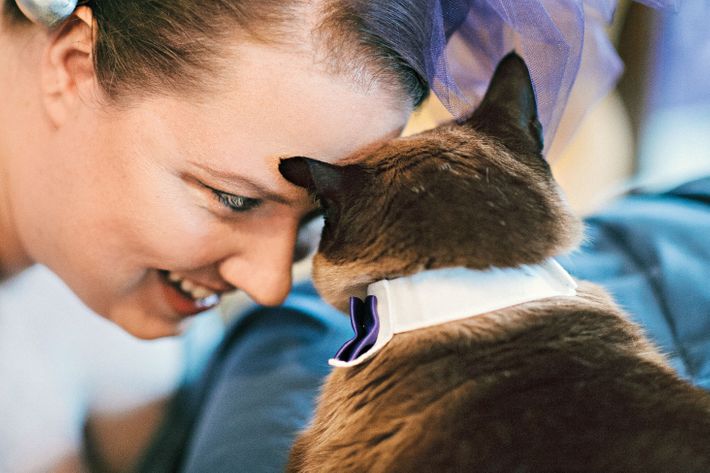 "I decided to wear purple, and I was like, What if I got Jax a little purple bow tie? He just kind of went with it. We also had big pictures of him blown up and glued onto foam board, which we put in the photo booth, so everyone got to take photos with Jax." Shondelyn Pettit & Tyler Weatherholtz, customer-service lead, casino manager. Married July 13, 2013, at the Adventure Aquarium, Camden, New Jersey.