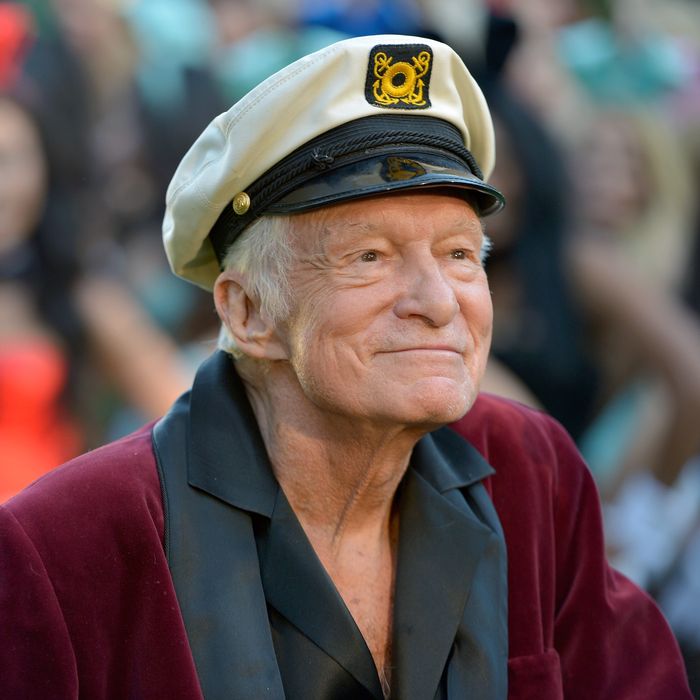 Hugh Hefner
Photo: Charley Gallay/Getty Images
Good news for anyone with a spare $500 mil: Playboy is possibly for sale.
Playboy chief executive Scott Flanders told CNN that the company (not just the magazine) is potentially looking for buyers, after Hugh Hefner put the legendary mansion up for sale for a cool $200 mil in January. However, the mansion has not been sold yet, potentially because one of the terms of the sale is that Hefner gets to live there for the rest of his seemingly infinite life.
Although the magazine's subscriptions have declined considerably in the 21st century — in 1975, they had 5.6 million subscribers, compared to 800,000 in 2016 — Forbes argues the value of the company is derived from the strength of its brand. Charles Sizemore wrote, in 2013:
The Playboy bunny is one of the most recognizable brand logos in the world, and the robe-wearing, pipe-smoking Hefner is a strong brand himself. Long after the 86-year-old Hefner passes, his image will have marketability. It's crass, but it sells.
Since 2013, the company has rebranded quite a bit (notably, by getting rid of nudity and their jokes sections in the magazine); meanwhile, the age of the average reader decreased from 47 to just over 30. Flanders said a "well-funded multi-channel brand management company" is interested in purchasing Playboy, but declined to name the prospective buyer.
Larry Flynt over at Hustler had a different take, saying that although Hugh Hefner is "a very nice man," the shift in their brand is "ludicrous."