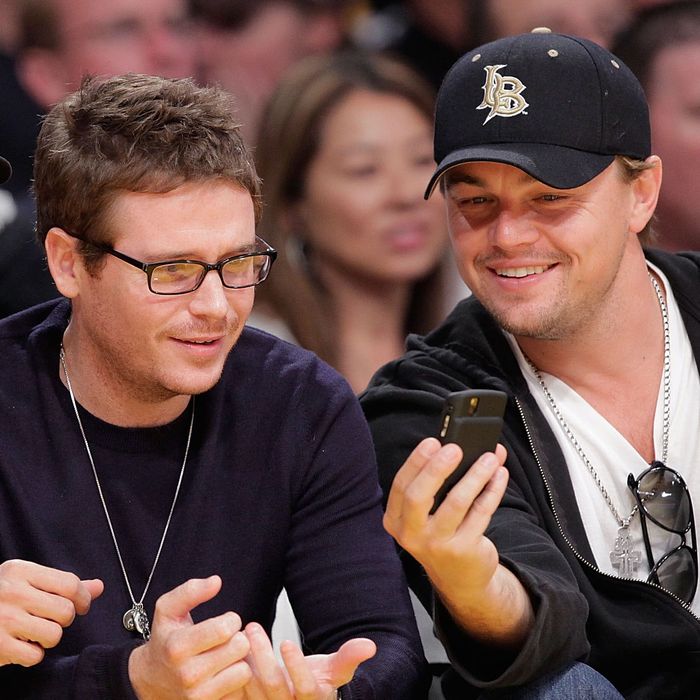 How young they once were.
Photo: Noel Vasquez/Getty Images
Now that Leonardo DiCaprio has finally ascended into the esteemed ranks of Oscar-winning actors, a few things about his life were bound to change. For starters, he got rid of that gruesome Revenant-era beard and returned to his slicked-black son-of-a-mafioso look. Nice. Secondly, he abstained from vaping at the Dolby Theatre in Los Angeles at the Oscars ceremony after he learned he was strictly prohibited from doing so. Piece of cake.
But no one — probably not even the card-carrying Pussy Posse members themselves — could have predicted a naming rebrand of the '90s Hollywod sex squad to something a little more mature, a little less sleazy. Banker hair, fewer models, even abstaining from vaping at the Oscars, sure. But the Pussy Posse's name is written in stone … right? Right?? Richie Akiva, you're with me, right??
Not so, according to a source reporting to the New York Daily News. After the Oscars, and after Leo gleefully witnessed his Oscar being engraved, Leo and the gang (Lukas Haas, Tobey Maguire, Vincent Laresca, and Richie Akiva, but of course) met up at a nightclub around midnight that night, where they were heard chanting a new name for the Puss Poss:
"They (apparently) called themselves 'The Wolf Pack,'" one partygoer said. "The crew was literally howling like wolves all night. They kept chanting, 'Wolf Pack, Wolf Pack, Wolf Pack!'"
No freaking way. But there's more:
After enjoying a drink or two and sneaking a few puffs off his vaping pipe, DiCaprio headed to a waiting car where he was swarmed by paparazzi and adoring fans. Just before his car pulled away, a couple of Leo's helpers rushed out to bring him what appeared to be a bottle of bubbly and the Oscar statue he'd left behind. Leo took the bottle and one of his handlers held the trophy.
Ah, there's the Leo we know and love: leaving his Oscar statue behind in favor of a vape pen. Don't ever forget where you came from, bud.