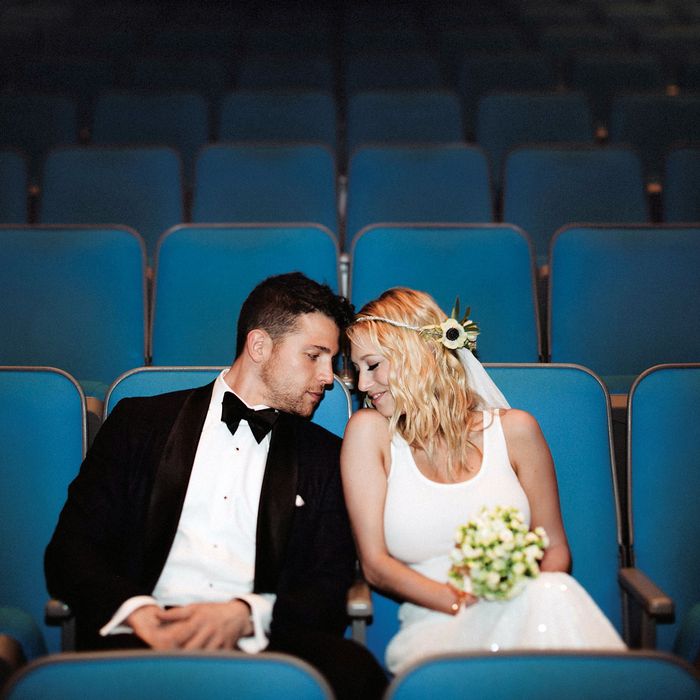 Lenny Platt and Naomi Piercey.
Photo: Chellise Michael
"We love to dress up, and we love theme parties," says Naomi Piercey, 30, "so when we found out that the Museum of the Moving Image in Astoria, one of our favorite places in the whole city, did weddings, it was no contest." (The couple helps run BBQ Films, a company that throws immersive film-screening experiences, so the venue was particularly apt.) In order to keep to their budget, however, Piercey and her now-husband, Lenny Platt, 31, booked the space for a Thursday night. And when rush-hour traffic kept the priest they had booked from arriving on time, they rolled with it and tapped a close friend, Whitney Crutchfield, who happened to be a licensed officiant, to step in. "For most couples, the first event they plan together is their wedding," says Platt, who is also an actor on ABC's Quantico, "but we've planned events together for years." Instead of letting the no-show priest derail the celebration, it added to the excitement. It was, they both agree, "one of the most memorable parts of the day." After the ceremony, guests explored the museum's exhibits, made their own stop-motion videos, and feasted on brisket and mac and cheese.
The Details
Bride's outfit: H&M tank top and custom skirt by Etsy designer Anya Dionne
DJ: Adventure[s]
Band: Postmodern Jukebox
Catering: Delaney Barbecue
Flowers: Kristen Miller
Videography: Nate Brady
Photographs: Chellise Michael Photography
*This article appears in the Summer 2016 issue of New York Weddings.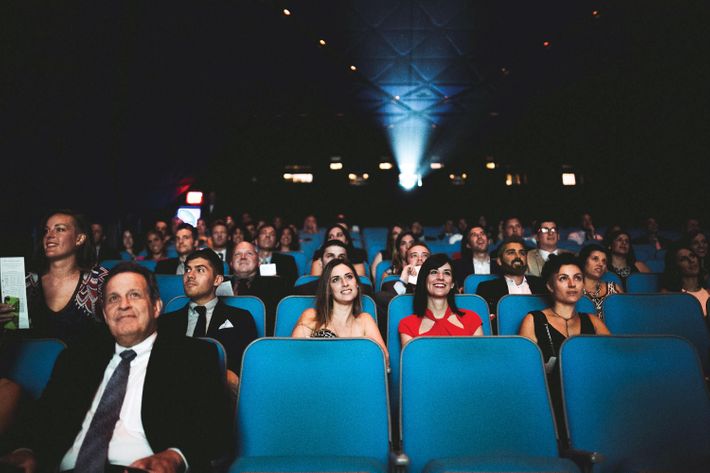 "We found a supercut of wedding scenes from different Hollywood movies, and the museum let us screen it twice before the procession."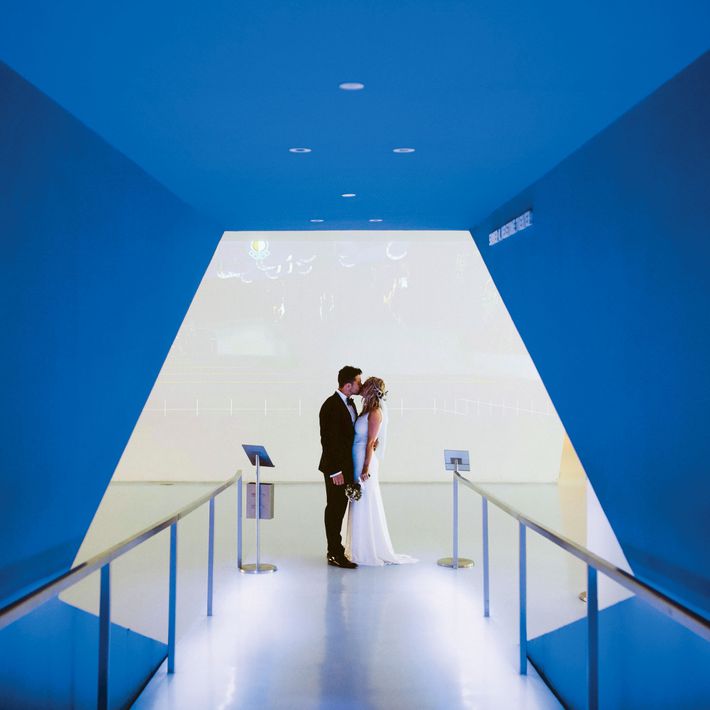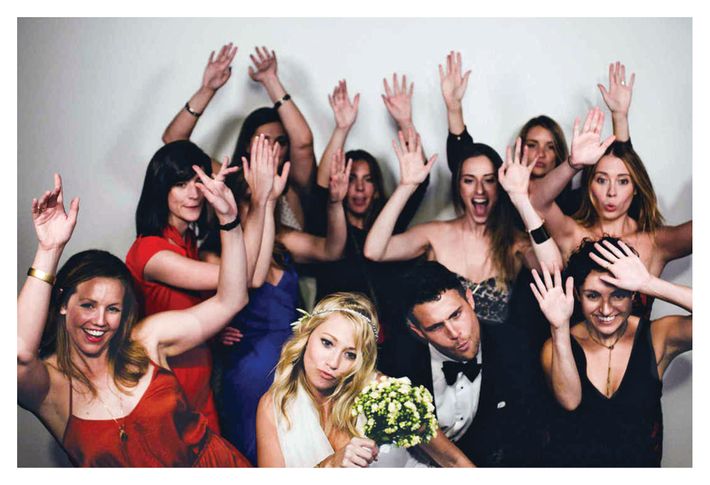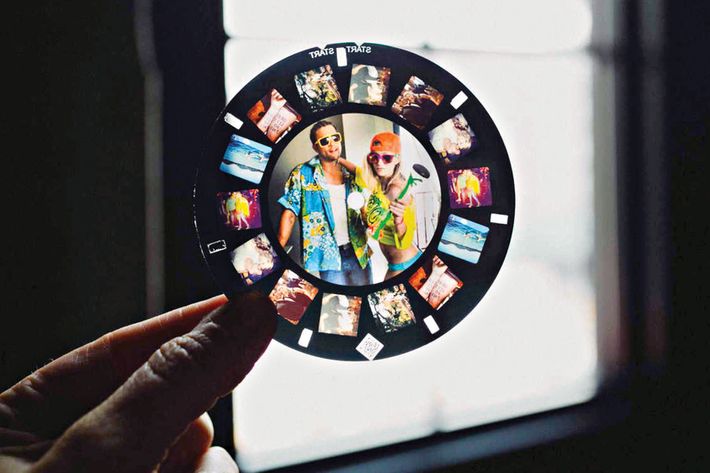 "During our first look, Naomi gave me an amazing gift: a Viewfinder reel with pictures of us from the various parties we've thrown over the years."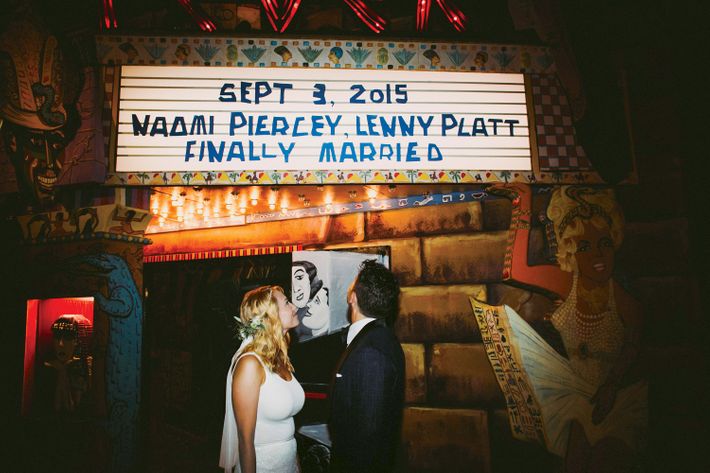 "The museum let us personalize its marquis for Tut's Fever Movie Palace, which is a working movie theater and homage to the theaters of the 1920s."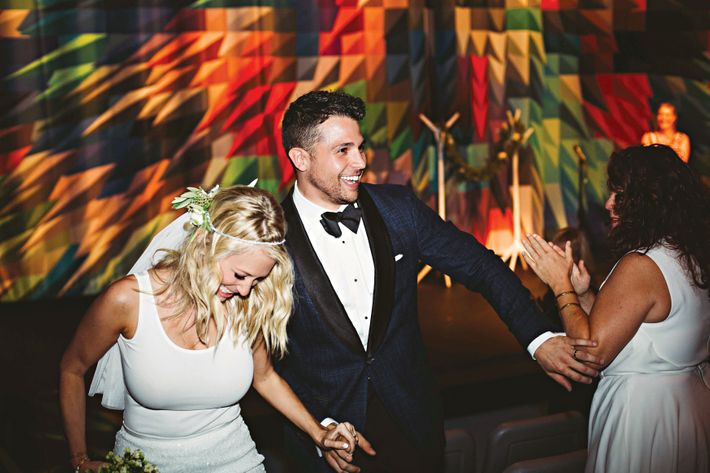 "The night we got engaged, the band Postmodern Jukebox played 'Earth Angel.' We hired them to play that song for our first dance."