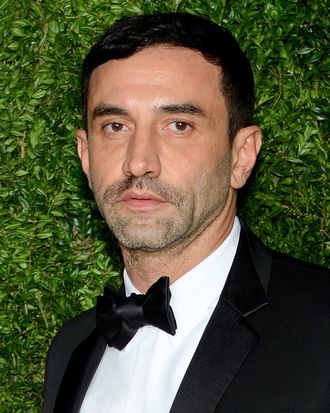 Riccardo Tisci off the court.
Photo: Andrew Toth/Getty Images
You might not pick it up from his unassuming manner, but Riccardo Tisci is a competitive guy — at least on the basketball court. The Givenchy designer, who also surfs and plays beach volleyball, previously channeled his inner jock to reimagine Nike's classic Air Force One and Dunk styles. Now, he is debuting a NikeLab collection of men's and women's activewear with the brand, which includes a basketball-shorts-over-running-tights combo that screams Russell Westbrook, and a sports bra with a slogan: "Engineered to the exact specifications of Riccardo Tisci." The first half of the collection will drop in July, with a second release taking place in August.
For the daring gymgoers out there, there are even some quintessentially Tisci floral pieces whose prints combines flowers native to Portland (home of Nike), Puglia (home of Tisci), and Rio de Janeiro (home of the upcoming Summer Olympics). Tisci spoke to the Cut about his Olympics-viewing habits, athleisure, and why he thinks the fashion system is "stuck in the '80s."
This is your first collection of apparel with Nike, after having done your shoe collections with them. What was it like working on this expanded lineup?
It's a little bit more difficult for me, because fashion is easy, but to make something that is special is more complex. Making something that is fashionable — but that at the same time, has to have the ingredients to be a proper sport collection — was interesting. You start from fabrics, because the goal is to make people feel comfortable.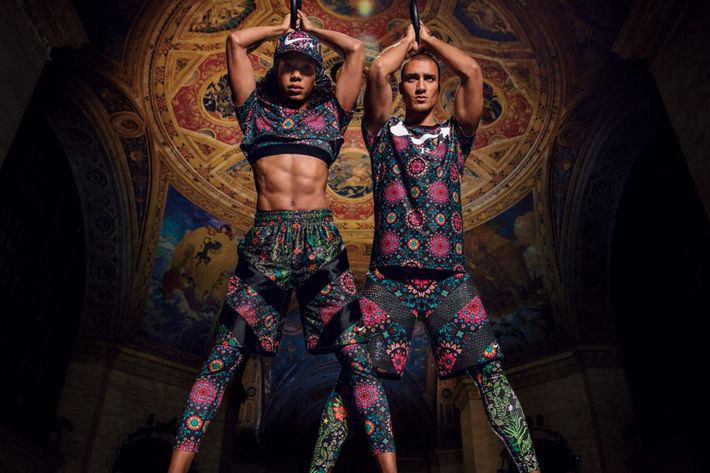 And it was tested on actual athletes, right?
Yes, their bodies are so strong and so incredible. It was new territory.
I know you surf — are you much of a jock outside of that?
I try to be. Not at that level, for sure. I used to do sports a lot when I was young. Then I had a little accident and I stopped. But it made me sad not to do it anymore. When I started working professionally, I understood that you have to have something to get out your stress. Ten, 12 years ago I went back to sports, and I lost a lot of weight and I felt better. When you work in any creative job, you're under stress a lot. Sports are the moment that you do something for yourself. It's quite amazing, because each time, the way you move and the way you stretch, you really discover a part of your body that you don't know.
Are there Olympic sports you'll be following?
Beach volleyball, I like a lot. I like sports I used to play.
We're in this athleisure-mad moment in fashion right now. I know these clothes are designed for performance. But did you design this collection thinking people could also wear this outside the gym?
I'm a Leo, and usually when people give me a project I try to satisfy the person who asked me. When I work with Givenchy, I try to satisfy Givenchy; when I work with Nike, I try to satisfy Nike. But in my head, it came out easily, because it's very "me," the result. I always like to learn more than to teach. I concentrated on what Nike could teach me. It was the technical dynamism, which sometimes we forget in fashion, because you sell just a luxury. And here, you have to make something that is washable, that has to travel, that has technology to make people sweat less. But, I think the biggest part for me is doing sports and looking great. And looking Riccardo Tisci. It's very Nike, but at the same time, it's very me. When you see the print, or you see the color. The total look, with the skirt and trousers together, the little top. I brought a lot of sensuality [to it]. Why not? A lot of people are going to wear it for sports, but I feel like it's going to be mixed very easily with high heels and skirts for nighttime. You can have fun with your wardrobe, and that was the game.
A lot of brands have been transitioning into doing buy-now-wear-now collections. Is that something you're interested in experimenting with, too?
I'm very interested and I've been talking about this for at least seven years. I personally think fashion is stuck, taking the form of the '80s, making people wait. Today, with the information we get from Instagram, Twitter, Facebook — I don't think people want to wait anymore to buy clothes.
This interview has been edited and condensed.