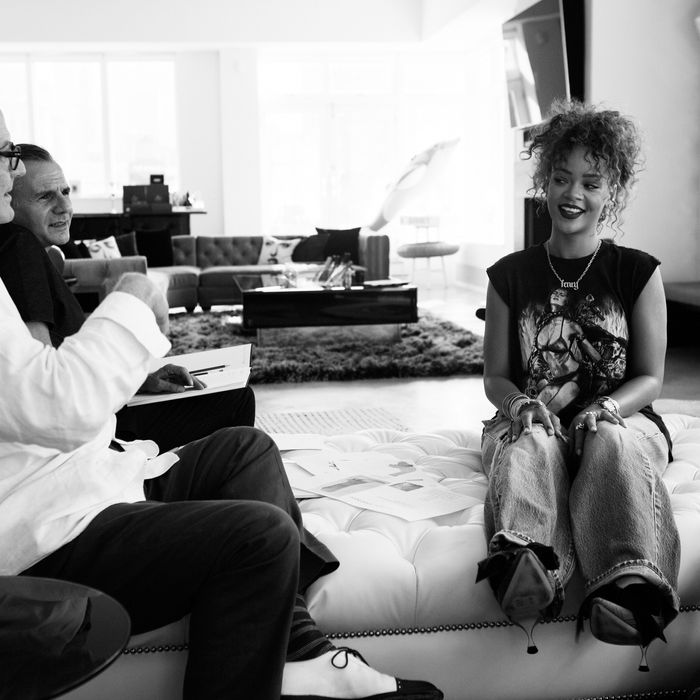 Blahnik and Rihanna hatching shoe-related plans.
Photo: Dennis Leupold
Designing the creeper that's sold out everywhere seems to have whetted Rihanna's appetite for further shoe endeavors. The star just announced her linkup with Manolo Blahnik — whose shoes she's been wearing for years, even pairing them with sweatpants — on a six-piece collection. The motifs include denim and embroidery inspired by, yes, Rihanna's tattoos.
Rihanna said that she is excited for the day she sees a woman on the street wearing her shoe designs. "I am sorry for that woman, because I'm going to literally run after her, shouting, 'Stop! Selfie! Who are you? Where did you get them?' I'm going to have a moment!" she joked to British Vogue. One of her favorite styles is the 9-to-5 boot. "Those boots are dangerous! If you're trying to get back home to your bed, don't wear them boots! You will get kidnapped in those boots, those boots are trouble," she said.
The styles are pricier than her hit Puma design, though, ranging from $895 to $3,995. Look for them to be available on May 5 in Blahnik's stores in New York, the U.K., and Hong Kong. And get a jump on your shopping (or wishful thinking) by checking out some of the styles below.