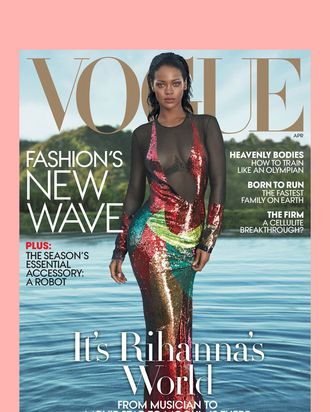 Photo: Mert Alas and Marcus Piggott/ VOGUE
Think for a second, if you can, of the biggest regret in your life so far. Was it going on a date with that man who talked about Settlers of Catan for three hours? Was it not buying tickets to Justin Bieber's Purpose tour because you were being needlessly contrarian about how good "Sorry" really is? Was it a bigger regret, like going to college or living in Boston? It's okay. We've all done dumb things in our lives. Everyone has regrets.
Everyone — including, to our surprise — Rihanna. In her latest cover for Vogue, for which the accompanying story went live today, the Bajan princess explains that her one regret in life happened on the night of the 2014 CFDA Awards, when she stepped out in an Adam Selman gown made out of 230,000 Swarovski crystals.
"I just liked it better without the lines underneath. Could you imagine the CFDA dress with a bra?" she explained to Vogue about the "shocking" nearly nude dress. "I would slice my throat. I already wanted to, for wearing a thong that wasn't bedazzled. That's the only regret I have in life."
Same.