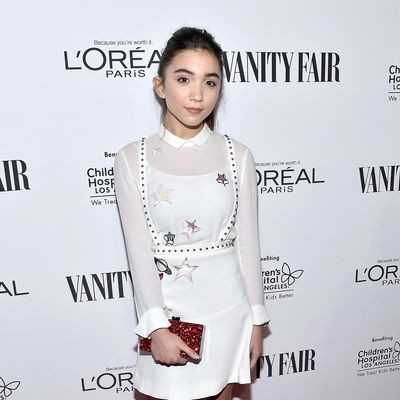 Rowan Blanchard.
Photo: Mike Windle/Getty Images/2016 Getty Images
In a new conversation with Interview magazine, Disney Channel's openly queer Girl Meets World star Rowan Blanchard revealed exactly why she speaks up for women on social media. The 14-year-old actress was catcalled a few years ago, when she was 12, and it changed everything:
I was at a movie with my friend, and we were both in skirts … we were waiting outside the movies for my dad to pick us up, and this grown man came over and was like, "You guys need a ride anywhere?" … I just remember sitting there feeling my heart sink into my stomach. It was such a surreal moment. Because I always see that happening in front of me; I always see girls getting catcalled. But up until that point, I hadn't experienced it. And it was like I was out-of-body for a second. I had seen that in movies, on TV, on the news. But when it happens to you, it's like, "Oh, crap, this is real; people look at me this way. And people look at other girls this way." I went home that night and didn't tell anybody. I didn't tell my parents because I was ashamed that it was what I was wearing. I was like, "Gosh, I shouldn't wear a skirt next time. What am I doing?" My sister was 10 at the time, and I remember lying in bed and thinking, "I don't want that to ever happen to her." 
After the episode, she saw it happening everywhere. When Girl Meets World fans — most of them are girls — approached her, "I would think, 'Has this ever happened to this girl? Of course it's happened to this girl, because it happens every day.'"
She uses her social media following (which reaches nearly 4 million on Instagram and Twitter) to empower others: "I didn't want them ever going through that. I just started doing it because I couldn't bear it anymore." This 14-year-old is sage beyond her years.