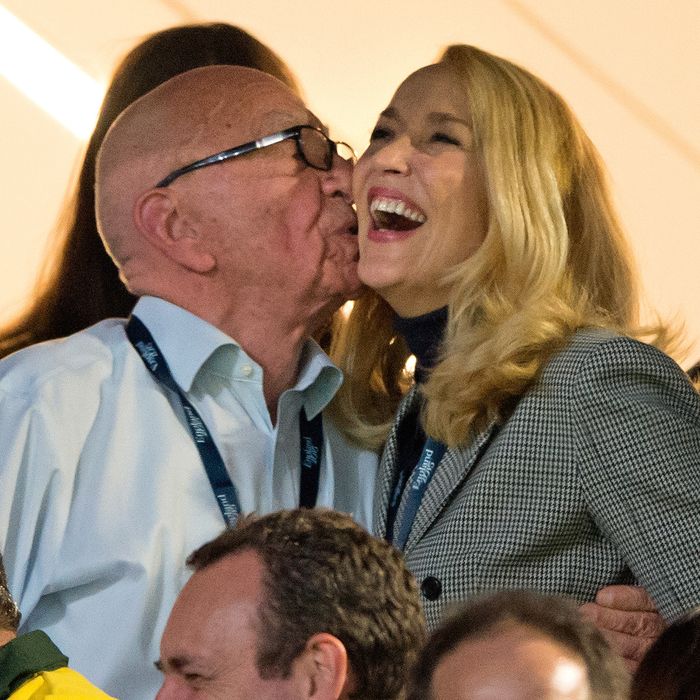 Love is in the air!
Photo: Max Mumby/Indigo/Getty Images
RupHall — a.k.a. Rupert Murdoch and Jerry Hall — are getting hitched this weekend in London. The 84-year-old and the 59-year-old will wed at St. Bride's, which is often referred to as the "journalist's church." Mazel, you two!
Murdoch and Hall are perfect for one another, despite their ideological differences. After a steamy four-month fling, the media mogul and ex-model shocked us all when they announced their wedding engagement in January. The ex-partner of Mick Jagger and the ex-husband of Wendi Deng, Anna Mann, and Patricia Booker have quite an age difference. But that didn't stop their romance from moving at record speed.
How did the pair fall in love so quickly? Nobody's quite sure. In GQ, Michael Wolff writes,
"[Murdoch's] search for sex, glamour and companionship - he has very much sought all three together - has always been in plain sight, and yet, given his more famously hard-hearted, bottom-line, grumpy lack of sexiness…[has been] entirely discounted in the Murdoch story."
Will Jerry finally be the sexy and glamorous companion Rupert so desperately seeks? Only time will tell! We give our best to the newest power couple.