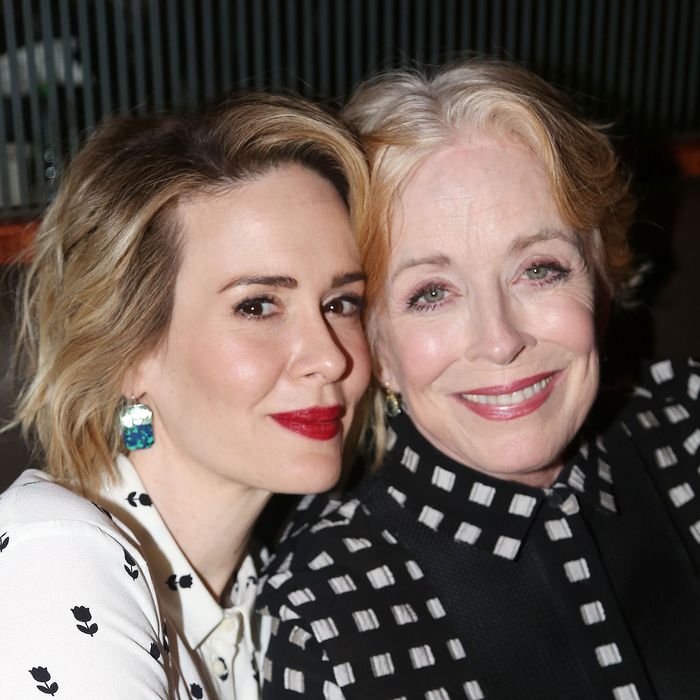 Sarah Paulson and Holland Taylor. (Photo: Bruce Glikas/FilmMagic)
Photo: Bruce Glikas/Getty Images
When BuzzFeed confirmed in November that actresses Sarah Paulson and Holland Taylor are dating, it was like the biggest and best L Word–like dream come true. It just was. The headline "Sarah Paulson And Holland Taylor Are Dating And It's Everything" was the basic content of every single text I sent that day — add in the dancing-woman and rainbow emoji.
In a New York Times story, Paulson talked about her yearlong romance with her partner who's 32 years her senior. She also discussed her other May-December romances, including Cherry Jones (18 years older, and yes, the lesbian professor who gets with Gaby Hoffmann in Transparent).
Before that she was engaged to Tracy Letts — he's nine years older. But Paulson says she's always been attracted to partners older than her. She likes who she likes, and that's the way it is, she told the New York Times:
"If my life choices had to be predicated based on what was expected of me from a community on either side, that's going to make me feel really straitjacketed, and I don't want to feel that …What I can say absolutely is that I am in love, and that person happens to be Holland Taylor."
She added that there's "a poignancy to being with someone older" and "a greater appreciation of time." Right on. Somehow, after this, I don't think the collective gushing over this couple will stop anytime soon.