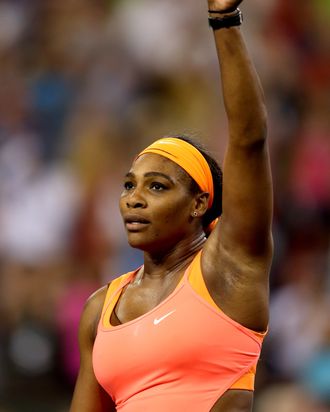 Serena Williams. Photo: Matthew Stockman/Getty Images
Serena Williams is on her game in so many ways. But when the tennis queen lost the final of the BNP Paribas Open to Victoria Azarenka, she showed the world that she's ace at one more thing: losing with insane amounts of gratitude.
This was Serena's first time playing in Indian Wells since 2001, when she won in front of a completely uncool crowd, the New York Times reports.
Returning to the Open this year was a big deal for Serena. But when she lost 0-3 in front of a supportive crowd, she was just super-nice to her supporters:
"It was really hard, the last moment I had here, it wasn't the greatest moment. So thank you so much. Thank you so much for the cheers, I can't tell you how much it means to me. I can't even tell you."
Serena Williams: She's beauty and she's grace (and a badass). She's also kind of the best at losing.