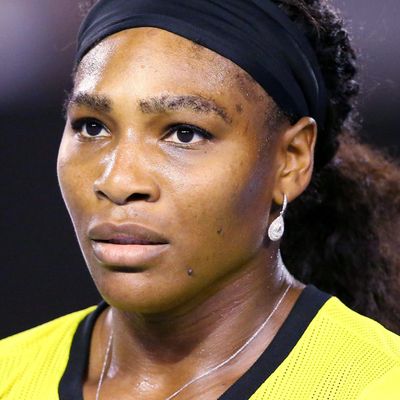 Raymond Moore and Serena Williams.
Photo: Getty Images
On Sunday, Indian Wells Tennis Garden CEO Raymond Moore let the world in on a little secret: He was actually born in the year 1898 and has a time machine in his garage. That's just about the only plausible explanation for why, at yesterday's BNP Paribas Open, he said that players in the Women's Tennis Association (WTA) "ride on the coattails" of men and are "very, very lucky" for male players' success.
"If I was a lady player, I'd go down every night on my knees and thank God that Roger Federer and Rafa Nadal were born, because they have carried this sport. They really have," he said. Oh, wow, really?

Reporters asked world No. 1 Serena Williams for her thoughts shortly after losing to Victoria Azarenka, and she didn't pull a single punch.
"If I could tell you every day how many people say they don't watch tennis unless they're watching myself or my sister, I couldn't even bring up that number," she said. "I think those remarks are very much mistaken and very, very, very inaccurate." Case in point: Women's tennis is extremely popular. "Last year the women's final at the U.S. Open sold out well before the men," she said. "I'm sorry, did Roger play in that [women's] final or Rafa or any man play in that final that was sold out before the men's final? I think not."

The server of burns called the comments a disservice not only to female athletes but to "every woman on this planet that has ever tried to stand up for what they believed in and being proud to be a woman."

Moore later apologized for his comments, which he said were erroneous and in "poor taste." Here's hoping that time machine breaks and Moore gets stuck in Europe at the height of the bubonic plague.