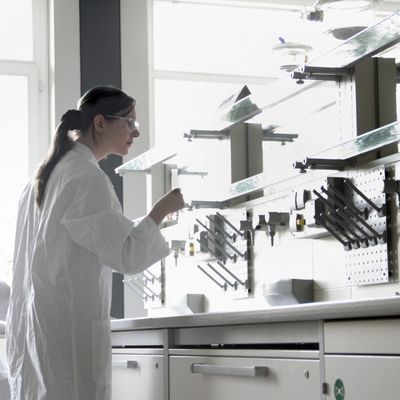 Women in STEM don't stay in STEM. Why?
Photo: Cultura RM/Sigrid Gombert/Getty Images
On Sunday night, A. Hope Jahren, a professor of geobiology at the University of Hawaii, published excerpts from an email between another (male) colleague at the university and one of her best (female) students. "Can I share something deeply personal with you?" the email begins. "All I know is that from the first day I talked to you, there hadn't been a single day or hour when you weren't on my mind." It continues along the same lines but ends with something of a quiet threat: "That's just the way things are and you're gonna have to deal with me until one of us leaves."
The email is not, like the number of other recent outings of sexual harassment at the workplace that we've seen lately (like in comedy or in music), published on Twitter and to blogs until its story began to be widely circulated. The email was run as a part of an editorial Jahren penned for the New York Times. She writes:
The evasion of justice within academia is all the more infuriating because the course of sexual harassment is so predictable. Since I started writing about women and science, my female colleagues have been moved to share their stories with me; my inbox is an inadvertent clearinghouse for unsolicited love notes. Sexual harassment in science generally starts like this: A woman (she is a student, a technician, a professor) gets an email and notices that the subject line is a bit off: "I need to tell you," or "my feelings." The opening lines refer to the altered physical and mental state of the author: "It's late and I can't sleep" is a favorite, though "Maybe it's the three glasses of cognac" is popular as well.
The editorial comes after a professor at Berkeley and another at the University of Chicago were both accused of sexual assault, resulting in both professors' resignations. And now Jahren has a clue as to why so many women leave the STEM fields. According to the National Center for Education Statistics, "one Ph.D. degree granted to a woman for every two granted to men" in STEM, and to this, Jahren writes: 
In the rare case when a female scientist becomes a faculty member, she finds herself invested in the very system that is doing the weeding, and soon recognizes that sexual harassment is one of the sharpest tools in the shed. My own experiences as a student, scientist and mentor lead me to believe that such harassment is widespread. Few studies exist, but in a survey of 191 female fellowship recipients published in 1995, 12 percent indicated that they had been sexually harassed as a student or early professional. My experiences have also convinced me that sexual harassment is very rarely publicly punished after it is reported, and then only after a pattern of relatively egregious offenses.
Her Twitter timeline and that of Nicole Cliffe (editor of The Toast) reveal much of the same, if not worse, behavior than what was published in Jarhen's editorial. "Within the last 8 hrs I've gotten email from females young as 15 & old as 77, telling me their stories of being harassed while in #STEM," Jahren tweeted. Cliffe's timeline is riddled with RTs of the same nature, of women (and men) coming forward to tell stories of high-school teachers, middle-school teachers, and other members of academia who thought it okay to act out of line sexually with their students.
And as for Jahren's ace student, she's still receiving love notes from her professor. "She was the best student that I had during the year that we worked together," Jahren adds. "The last time she talked to me, she told me that she was thinking of quitting."
The editorial comes after a professor at Berkeley and another at the University of Chicago were both accused of sexual assault, resulting in both professors' resignations. And now Jahren has a clue as to why so many women leave the STEM fields. According to the National Center for Education Statistics, "one Ph.D. degree granted to a woman for every two granted to men" in STEM, and to this, Jahren writes: