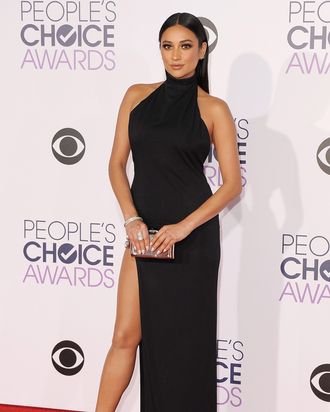 Shay Mitchell
Photo: Jon Kopaloff/FilmMagic/Getty Images
It took five years for Pretty Little Liars to unmask "A," but viewers fell in love with Emily Fields, played by Shay Mitchell, much sooner. It wasn't hard. The 28-year-old is an open book on social media, often showcasing her dreamy California life, complete with a glam team, exotic vacations, and oh-so-many selfies. A newly minted spokeswoman for Biore, Mitchell spoke with the Cut about her surprisingly minimal beauty routine: from how a swirl of bronzer completes the "no makeup" look to a self-heating mask, perfect for red-carpet prep.
Your beauty look seems to have evolved so much on Pretty Little Liars. How much of a role have you had in your onscreen transformation?
I think that certainly [show creator] Marlene [King] has each of us girls assess how we think our character's look has evolved over the past five years. With Emily moving out to California, you get to experiment with different things. It's a little bit more makeup, but it's still fairly simple.
You have such beautiful skin. What's your morning beauty routine like?
Cleansing is always first. A lot of people ask why I wash my face in the morning if I do it at night. For me it's just because of the natural dirt and oil that gets in your pillowcase, and it's important to start the day with a clean, fresh face. I use baking-soda cleansers at night and in the morning. I think it's also important to exfoliate two to three times a week. That really helps get rid of the dry-skin cells, keeps your skin really smooth, and then you can apply your makeup and have a good day to start with.
What's your nighttime skin-care routine like?
At nighttime, I think it's important to get off all of the makeup. From working on the show to going to different functions, I get a lot put on so I'm really careful to get it all off.
What's your red-carpet process like?
I love my glam team, so that process is always fun. We go over looks, determine what the outfit is, what we want to do for hair and makeup. Those days are super fun because of the people you get to spend them with. It's over so quickly, but it takes so long to get ready, like two-and-a-half hours. Before the day of the event, I'll do the pore strips — I love those — or there's a one-minute self-heating mask from Biore that I love. It's great because it's quick and it's easy, and when you apply makeup, it goes on much smoother.
What's the most useful beauty tip you've learned over the years?
It's all about blending — it's more important than any specific product. Especially now that contouring is so popular, blending is even more important. Sometimes people need to be reminded of that — I even have to remind myself sometimes. I use any sort of sponge to blend.
What was your relationship with beauty like when you were younger?
It was all about experimenting when I was younger. I would try anything. I think now I kind of like to be more minimal because I wear so much makeup for work. So when I'm not working, I like to go barefaced to give my skin a break. But sometimes I like to play around because I work with so many artists. I like to play with eye colors, lip shades, all of that.
Could you share some of your no-makeup makeup tips?
Giving your skin a sun-kissed glow with bronzer and a highlighter always goes a long way.
This interview has been edited and condensed.